Biography
Born in 1987, at kibbutz Tirat Zvi, in northern Israel, Oria Forsher is an artist and a designer. Currently graduating her B.A. degree from Shenkar College of Engineering, Art and Design, where she attended the jewelry design faculty (B.J.D), Oria studied and experimented with a designing jewelry, silversmithing, goldsmithing and a wide veriaty of arts and crafts.
Along her Jewelry design studies, Oria also studied mass production methods and marketing techniques. As part of her curriculum, Oria participated in practical projects, and was required to design and market her products to designated target clients. In addition, she has mastered designing using such programs as Photoshop, Illustrator, Keyshot and Rhino.
These days Oria is employed by a jeweler, whose designs are hand made out of 18K gold. Her responsibilities range from designing original pieces to promoting sales.
Special accomplishments:
During 2015, Oria designed a pair of glasses, which are displayed today at the 'Opticana Glass Museum'.
On September 2016, Oria participated in VICENZAORO organized by Fiera di Vicenza in the next generation jewelry talent contest, and was selected to be among the 5 winners.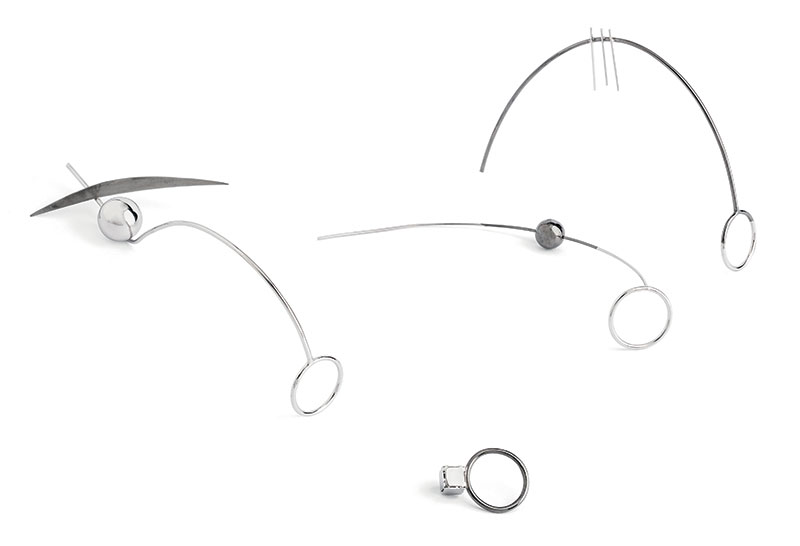 Inspired by Kandinsky
Oria Forscher – Special mention
for EUROCATENE S.R.L.


Inspired by Kandinsky
2016
Anello
Argento 925
The inspiration for this ring comes from some recurring motifs in the works of Vassily Kandinsky. The artist was in the habit of listening to music while painting and his art is able to propagate its rhythm and melody. The design consists of a series of modular rings, a dynamic system of alternate lines and surfaces to be worn as a unit or separately. The design is clean and minimal, defined by a monochromatic palette placing the emphasis on the forms.