The chain between function and ornament
From 27th October 2017 to 25th March 2018
Organized by Alba Cappellieri
The exhibition pays tribute to the chain, a common element both in ancient and contemporary jewellery. A mechanical instrument of traction, the chain has been the inspiration of a whole array of jewellery and the expression of Italian manufacture and beauty.
On display is a selection of precious chains, part of the Veneto tradition and proof of a considerable artisan and industrial production in the Bassano del Grappa and Vicenza districts. The susceptibility of the panorama of Veneto jewellery-making towards chain manufacture is further confirmed by Vicenza's Aziende Riunite catalogue (Company Association) issued in the early 1900s, which includes a vast and varied selection of chains.
As well as classical and traditional examples of chain production, the exhibition also includes modern jewellery from leading Italian gold art companies and contemporary Italian designers.
An exhibition that shows how extraordinary jewellery, whose value lies in creativity, innovation and the value of tradition, can be generated from a simple functional element.
Partner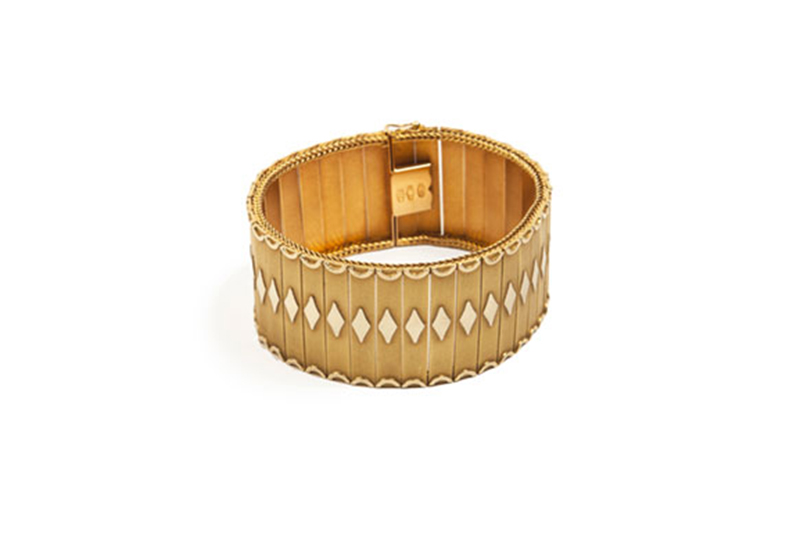 UNOAERRE
1950s
Bracelet

750 gold; plates welded by machine using the wheatear technique
AREZZO
SOPRANA COLLECTION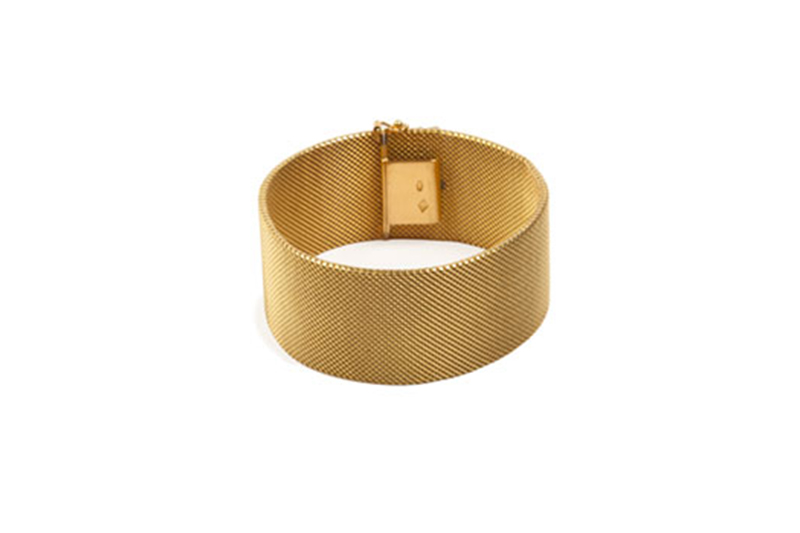 1960s
Bracelet

Gold; industrial weave, mesh band
VICENZA (?)
SOPRANA COLLECTION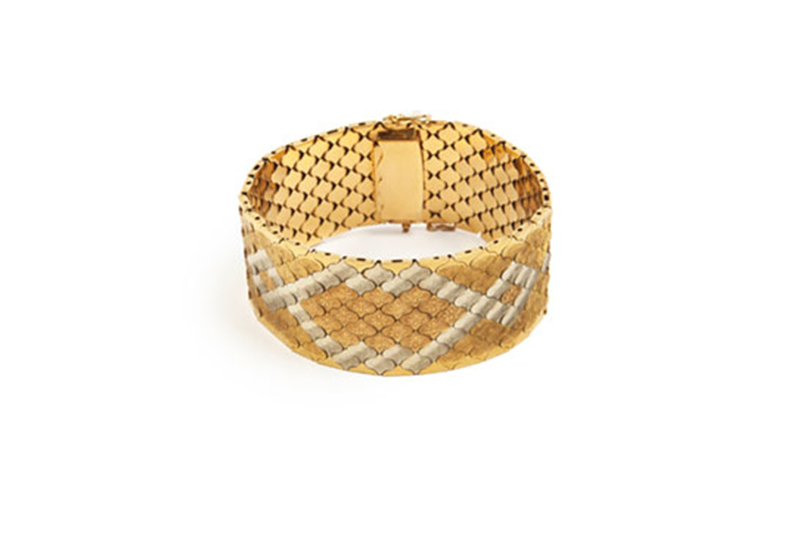 1980s
"Carpet" bracelet

750 gold; hinged and engraved by hand
VICENZA, STAMP 738
SOPRANA COLLECTION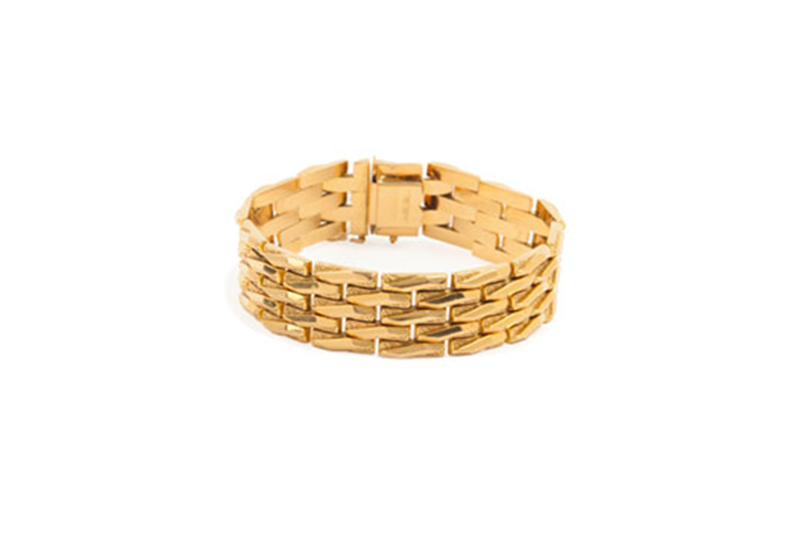 1950s
Bracelet

750 gold; hinged, mould and cutter
VICENZA
SOPRANA COLLECTION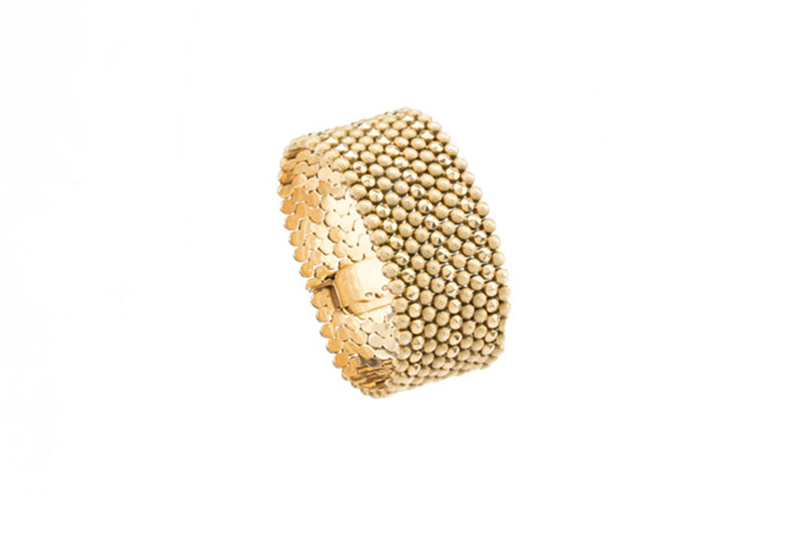 1950s
Bracelet

750 gold; hinged, mould and cutter
VICENZA
SOPRANA COLLECTION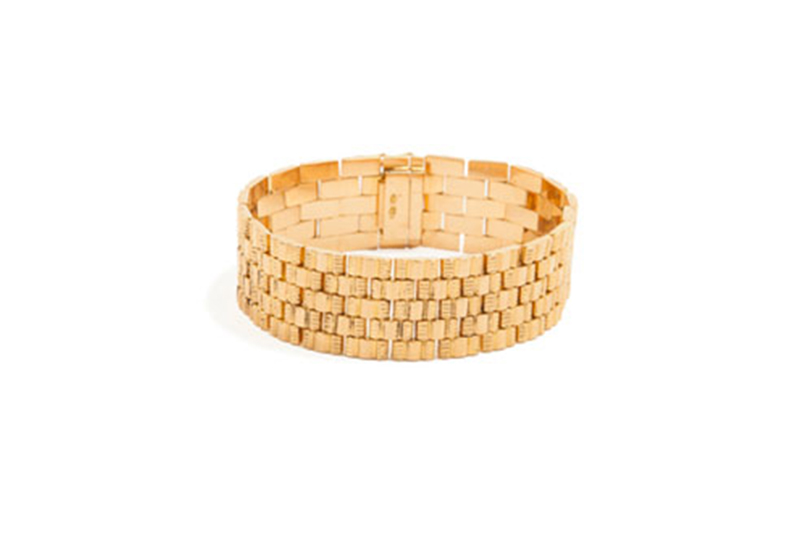 1950s
Bracelet

750 gold; hinged, mould and cutter
VICENZA
SOPRANA COLLECTION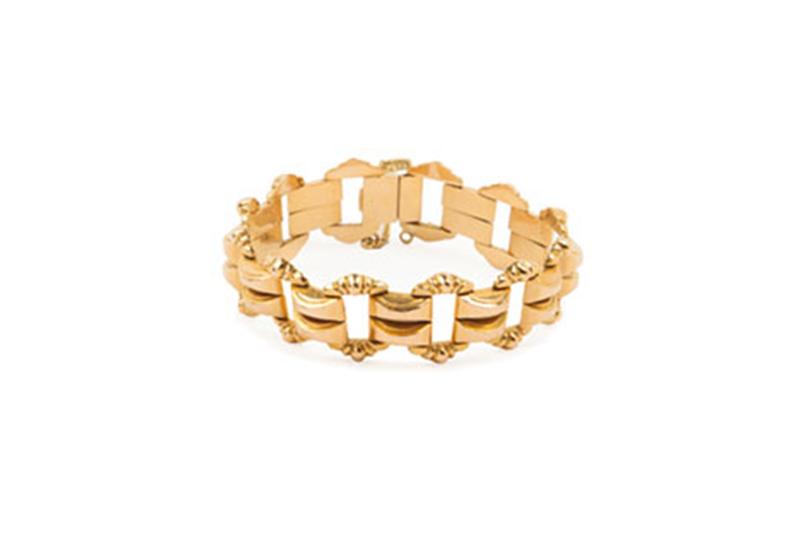 1940s
Bracelet

750 gold; hinged, mould and cutter
VICENZA
SOPRANA COLLECTION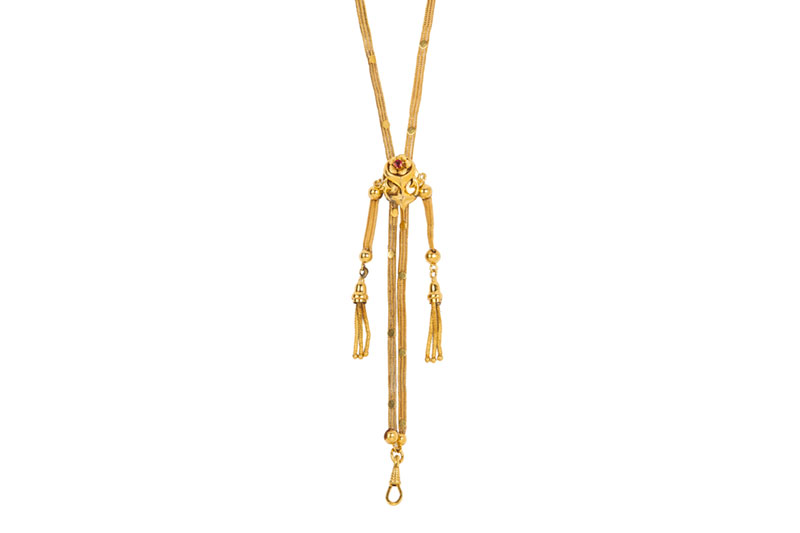 Late 1800s - early 1900s
Slip necklace

750 gold, enamels; woven chain
MARIA TERESA MIONI FOUNDATION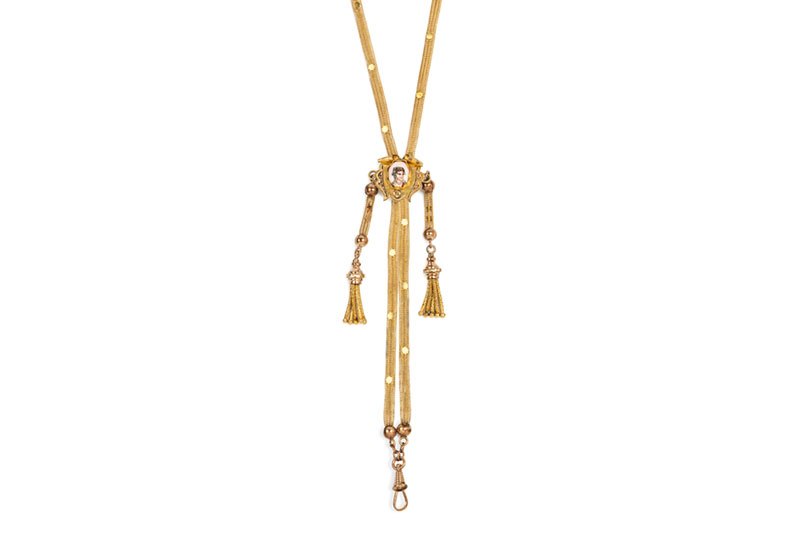 Late 1800s - early 1900s
Slip necklace

750 gold, enamels; woven chain
MARIA TERESA MIONI FOUNDATION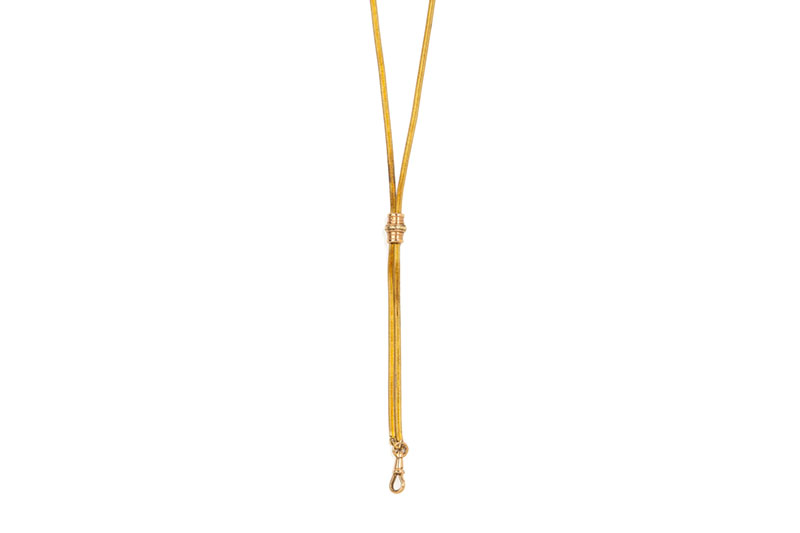 Late 1800s - early 1900s
Slip necklace

750 gold; double, flattened mouse tail chain
MARIA TERESA MIONI FOUNDATION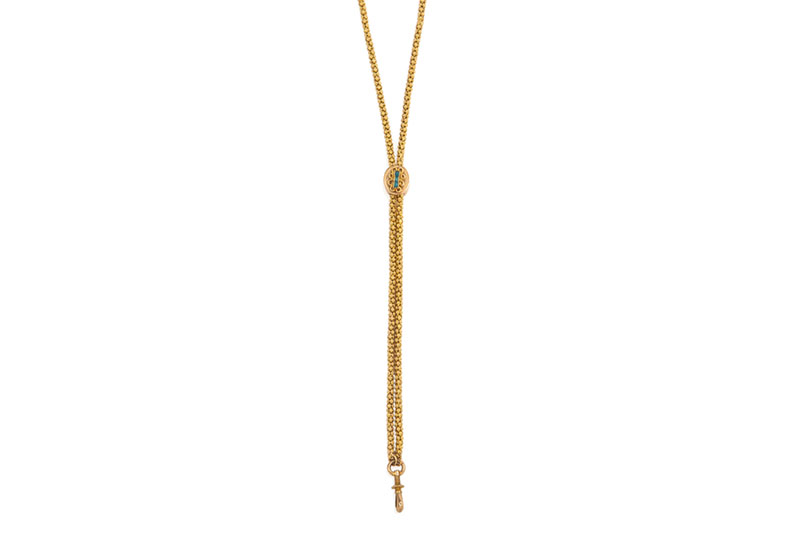 1800s
Korean necklace

750 gold and turquoise; cut chain with no welding

MARIA TERESA MIONI FOUNDATION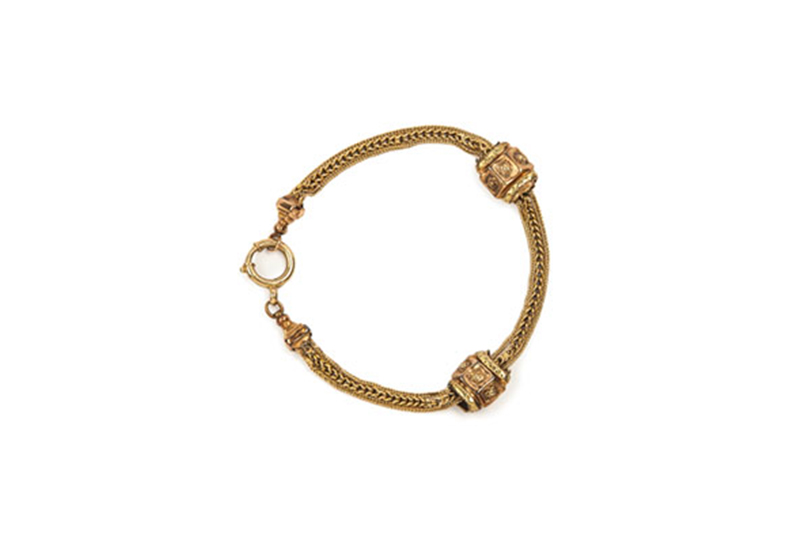 1800s
Bracelet

Two-coloured gold; hand-made central part

VICENZA
SOPRANA COLLECTION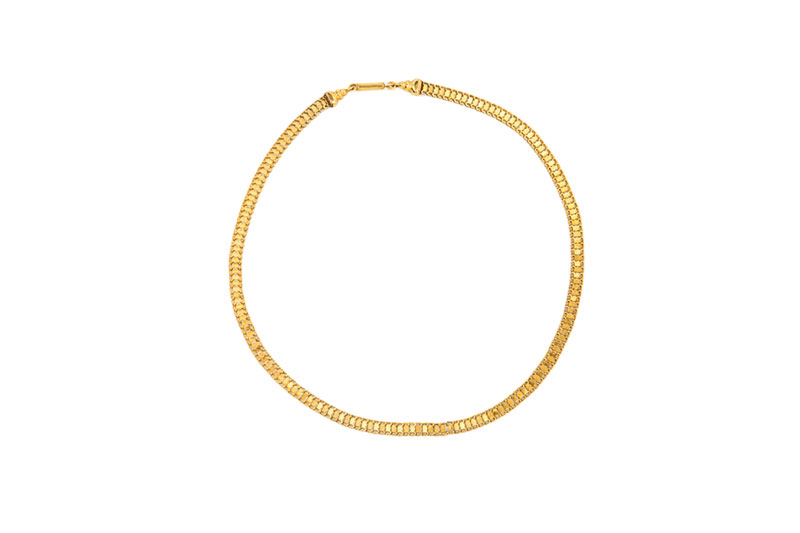 1800s
Korean necklace

750 gold

MARIA TERESA MIONI FOUNDATION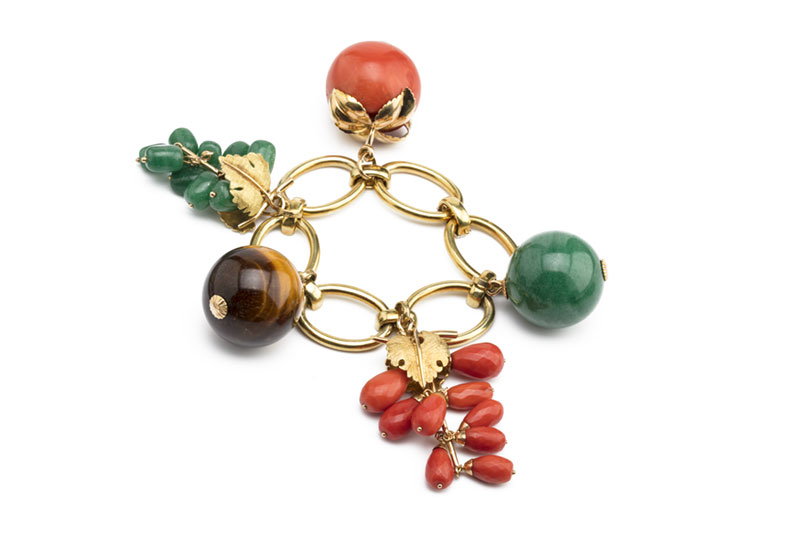 1950s
Bracelet with fruit charms

750 gold, coral, tiger's eye, aventurine

MARIA TERESA MIONI FOUNDATION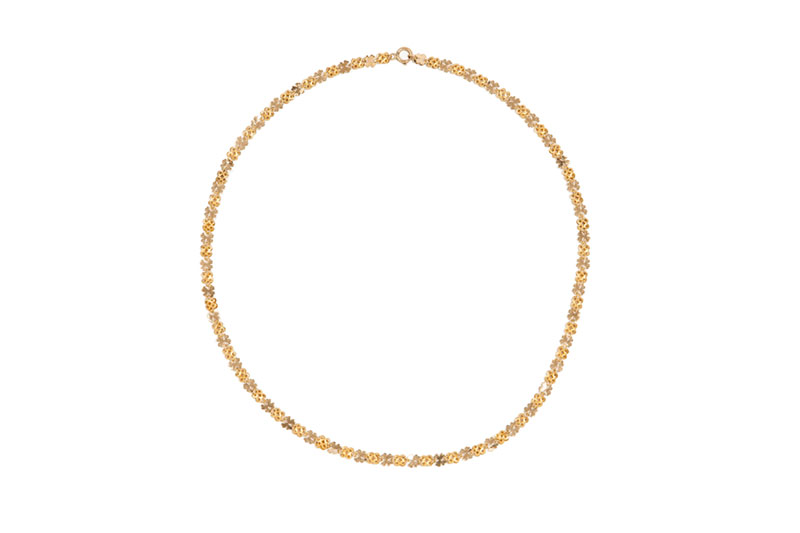 Late 1800s
Necklaces (copy from Renaissance drawing)

750 gold; individual elements cut by hand and then assembled

MARIA TERESA MIONI FOUNDATION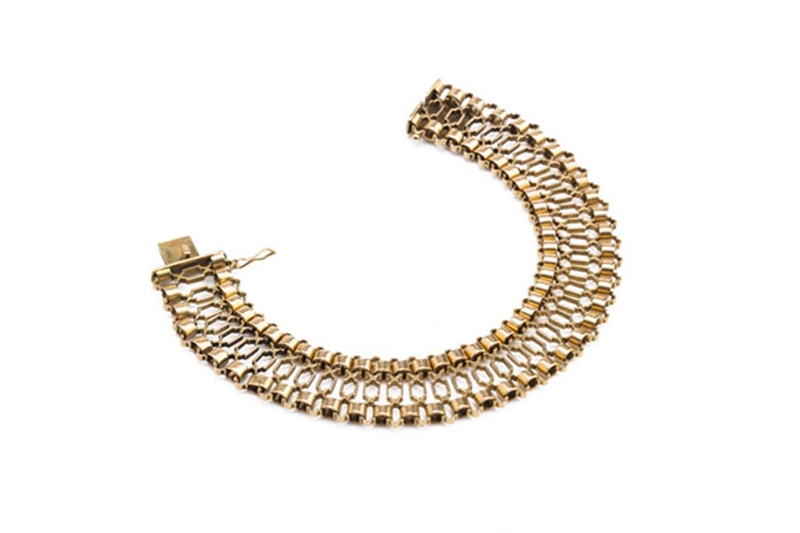 1950s
Bracelet

750 gold; mechanically made chain, cutter and hand-welded tube

MARIA TERESA MIONI FOUNDATION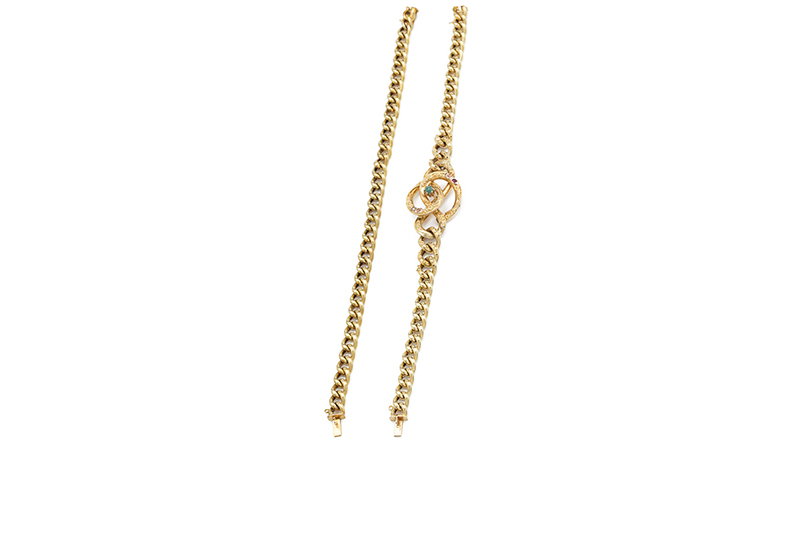 1920s
Bracelets/Necklace

750 gold, synthetic stones; hollow tubes with welded appliqué

MARIA TERESA MIONI FOUNDATION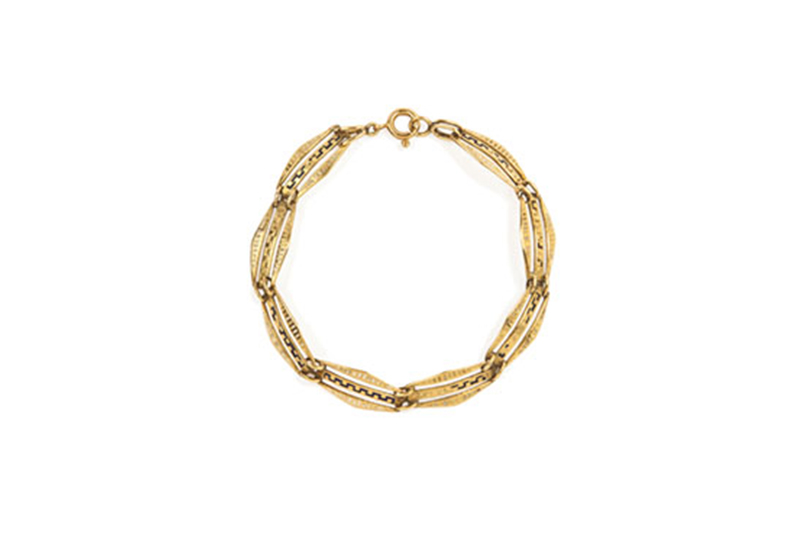 Early 1900s
Bracelet

Gold, enamel; mould

VICENZA
SOPRANA COLLECTION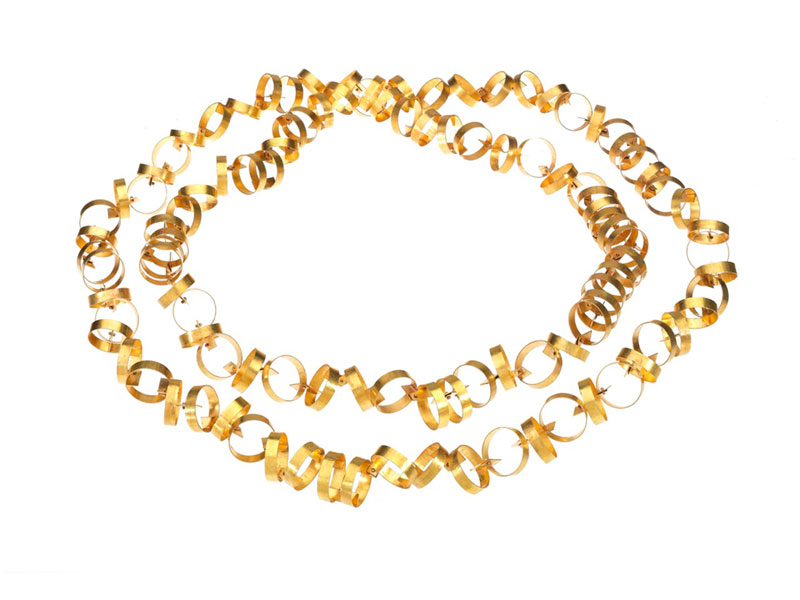 GIAMPAOLO BABETTO
2017
Necklace

750 yellow gold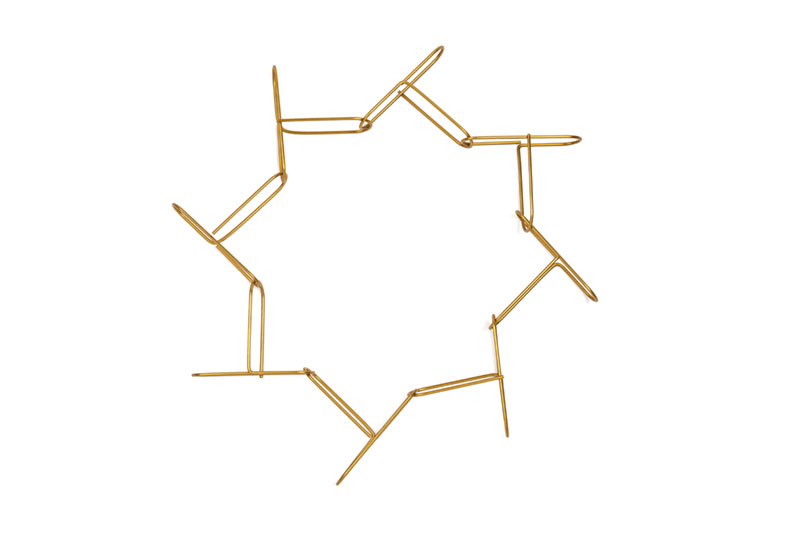 IVDESIGN, FRANCESCA BRAGA ROSA E LUDOVICO VIANELLO
Out of office, 2017
Necklace

Brass paper clips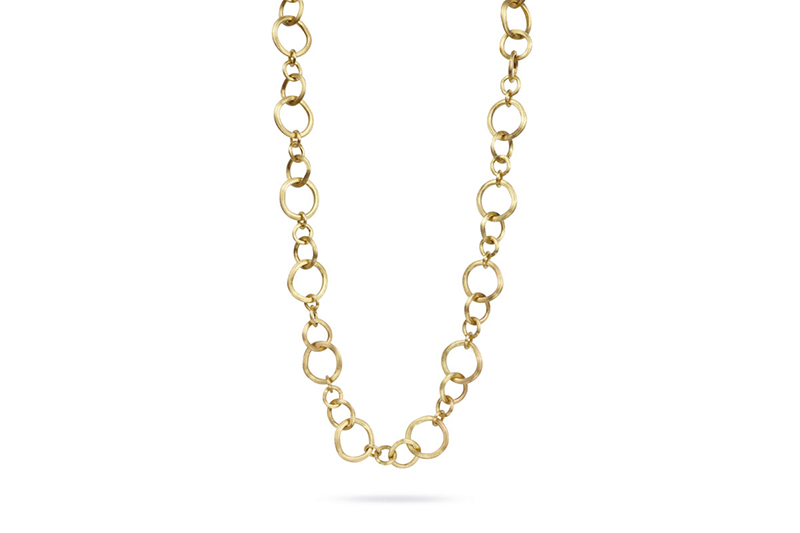 MARCO BICEGO
Jaipur Link, 2011
Necklace

18 kt yellow gold; hand-engraved gold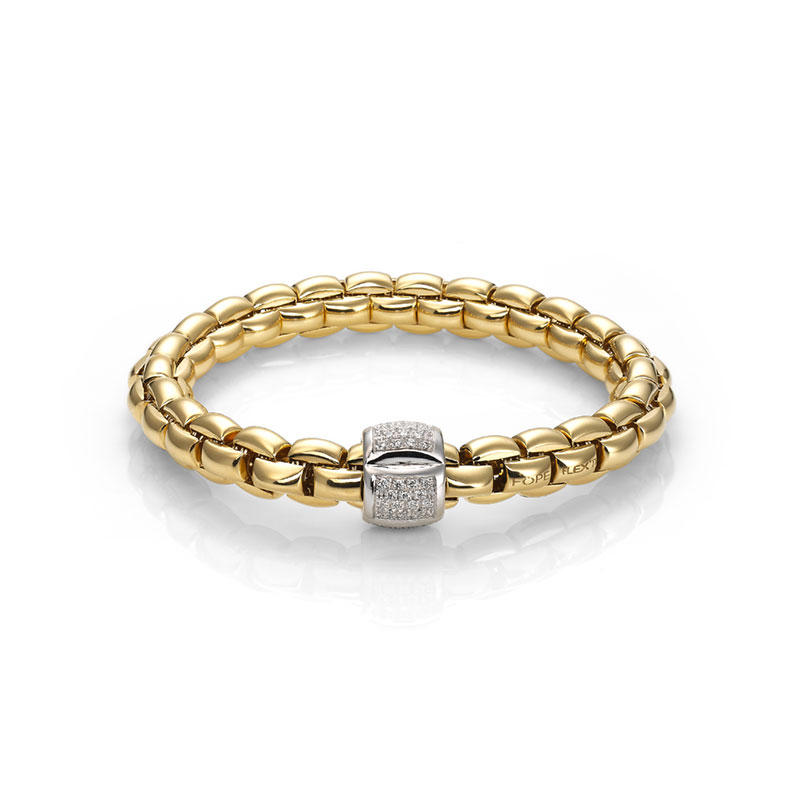 FOPE
Flex'It Eka, 2017
Elastic bracelet

18 kt gold, white gold, diamond pavé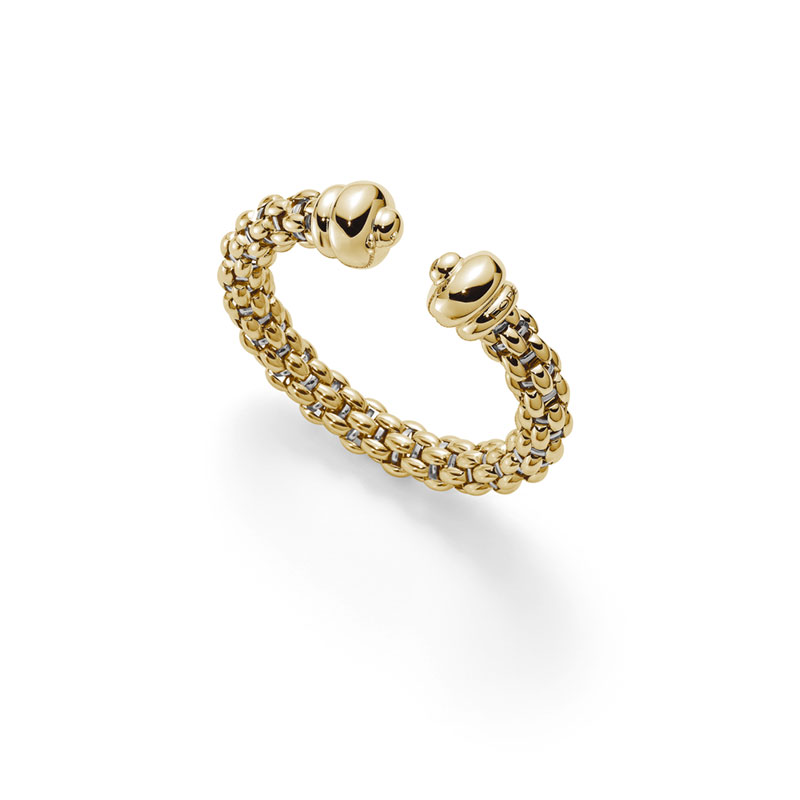 FOPE
Diva, 1986
Rigid bracelet

18 kt yellow gold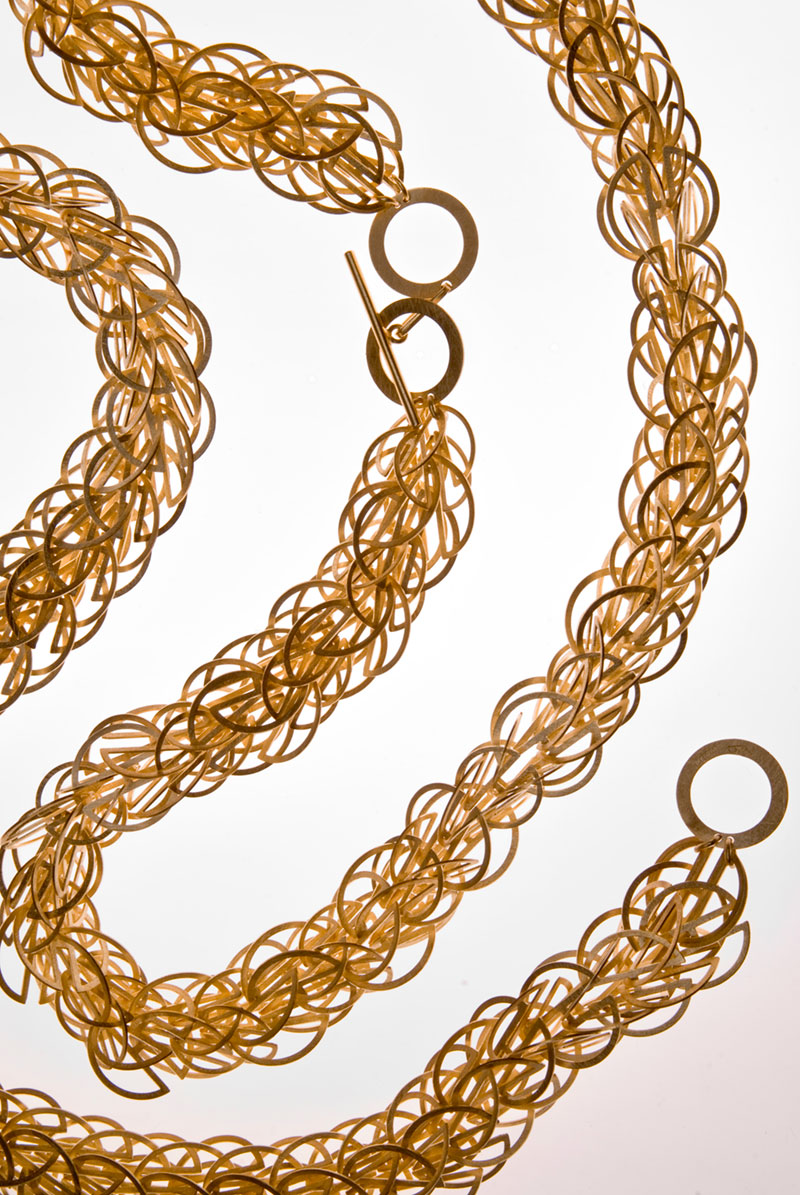 CARLA RICCOBONI
Alpha 11-14, ALPHABET Collection, 1994
Necklace

750 yellow gold; chain made of cut modules hooked together without welding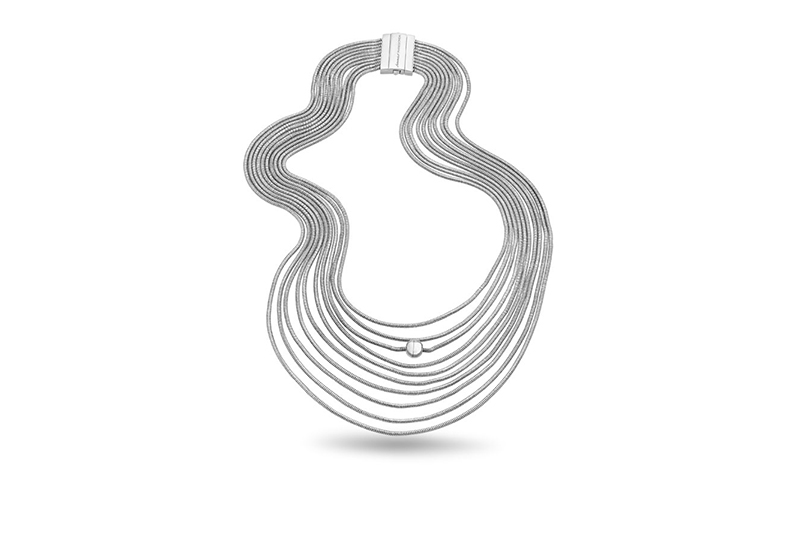 FRANCO PIANEGONDA
Liquid Emotion, 2013/2014
Necklace

Silver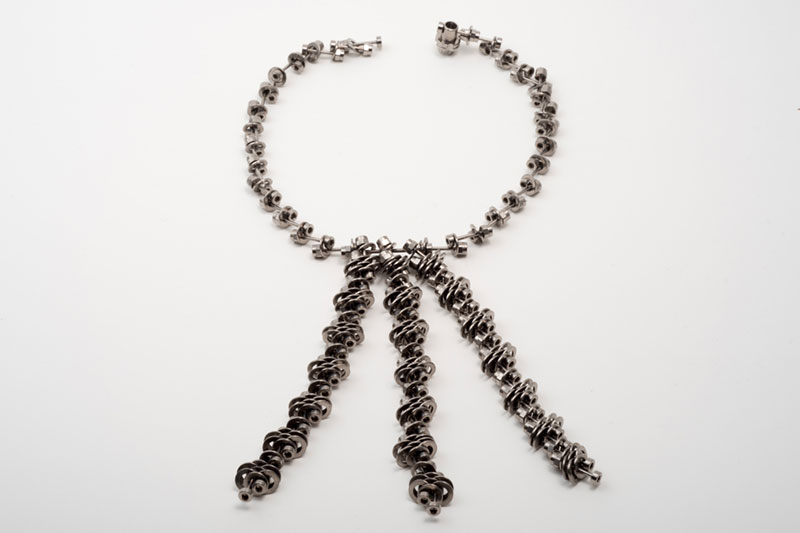 EMMA FRANCESCONI
Trifora, 2015
Necklace

Titanium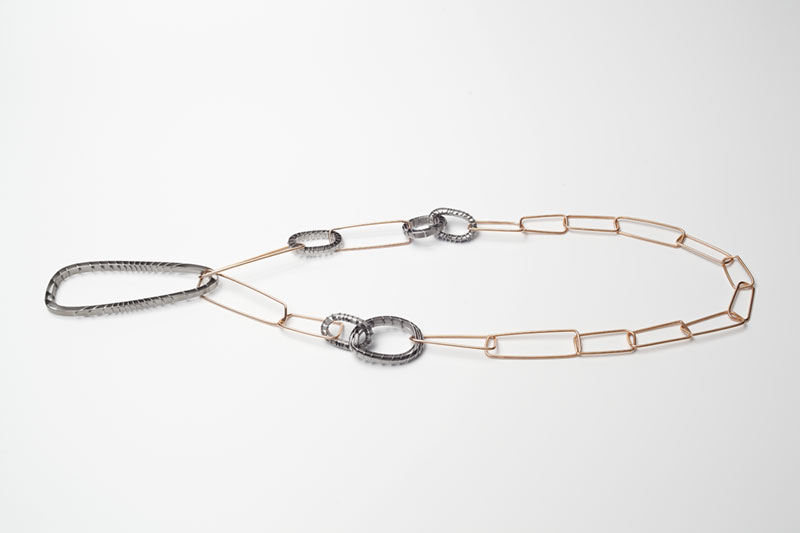 STEFANIA LUCCHETTA
Per Aspera 50, 2012
Necklace (one piece)

Stellite, 18kt gold-plated bronze; mixed technique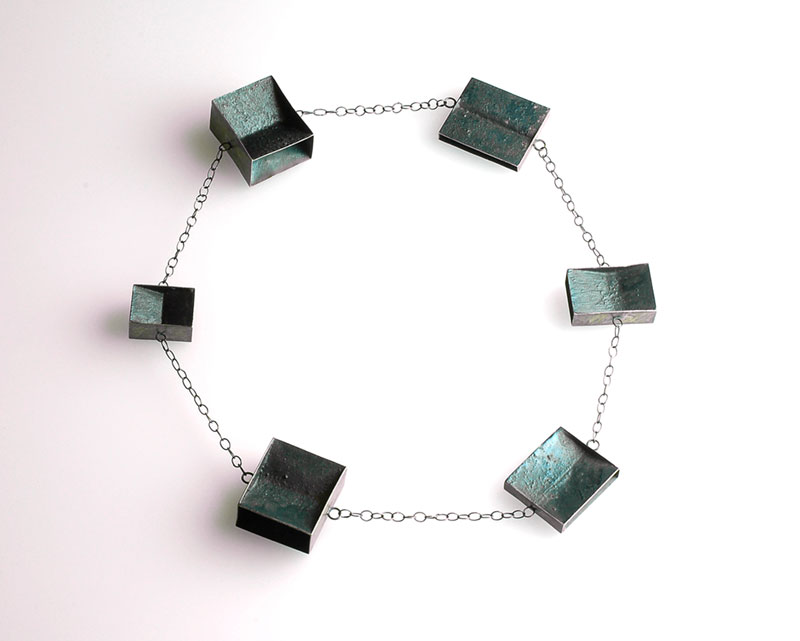 STEFANO MARCHETTI
1999
Necklace

Niellated silver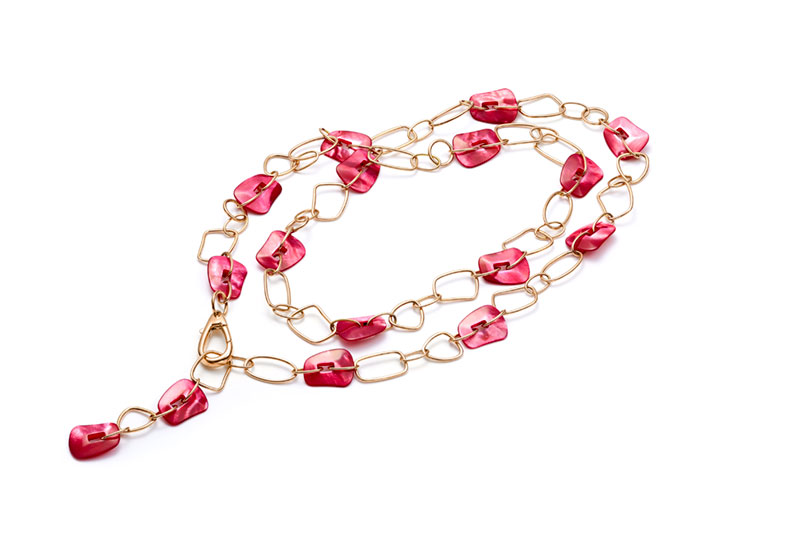 MATTIOLI
Bikini, Puzzle collection, 2014
Necklace

Pink gold, mother-of-pearl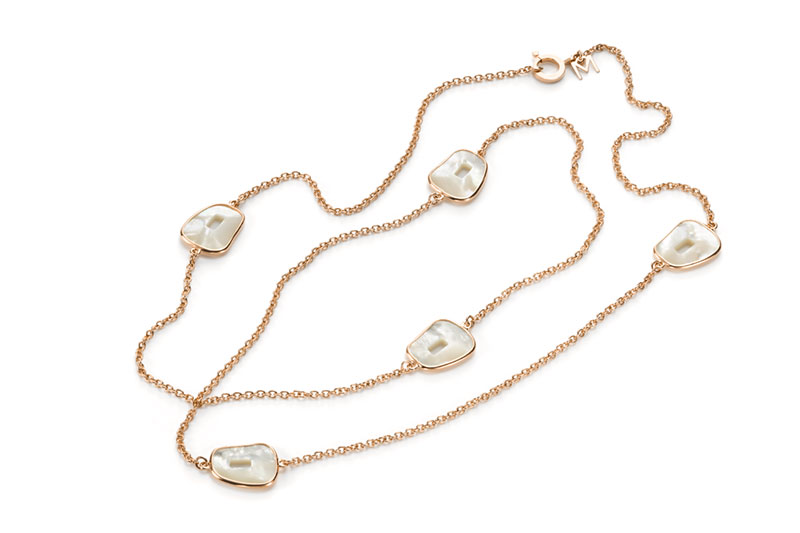 MATTIOLI
Chanel, Puzzle Collection, 2013
Necklace

Pink gold, mother-of-pearl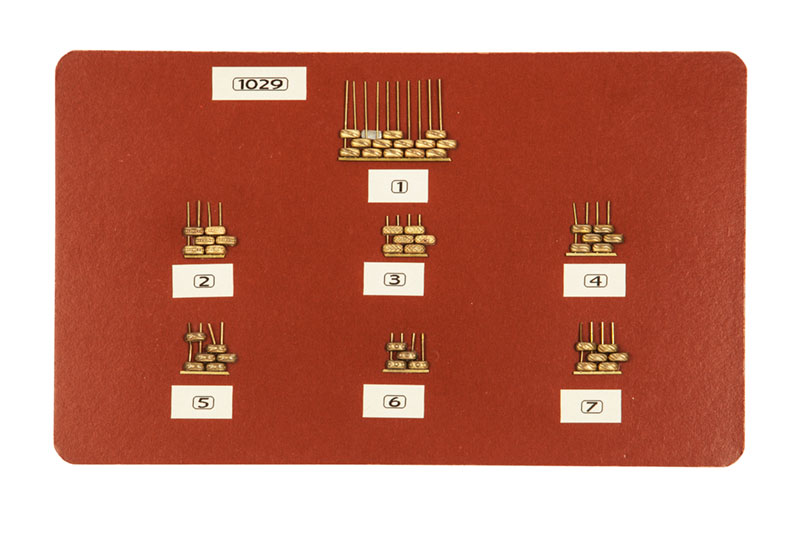 OFFICINA ANGELO TOVO
TAV. 1029, 1960/70 ca.
Examples of "pivoted" chain assembly

NADIR STRINGA COLLECTION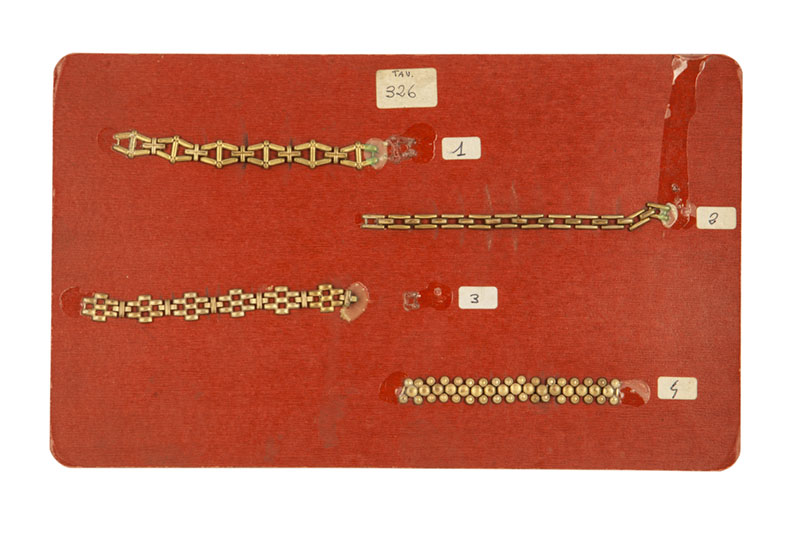 OFFICINA ANGELO TOVO
TAV. 326, 1970/80 ca.
"Pivoted" chain models

Brass
NADIR STRINGA COLLECTION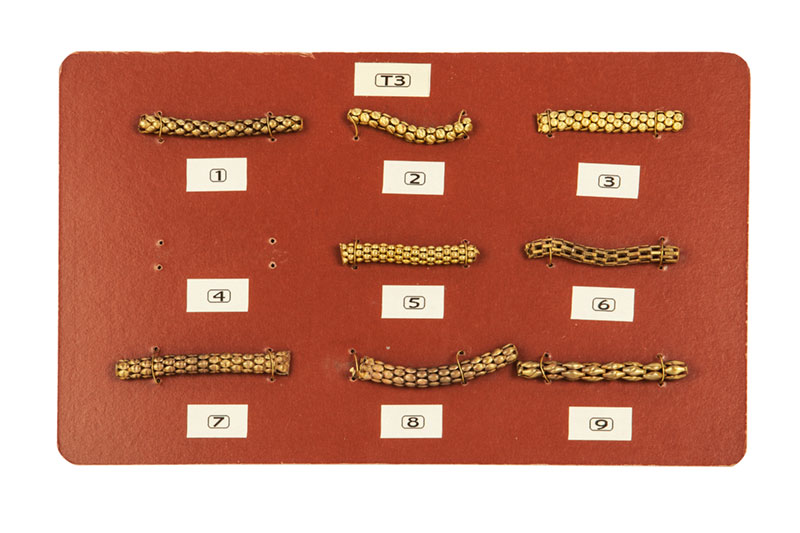 OFFICINA ANGELO TOVO
TAV. T-3, 1960/80 ca.
"Korean" chain models

Brass
NADIR STRINGA COLLECTION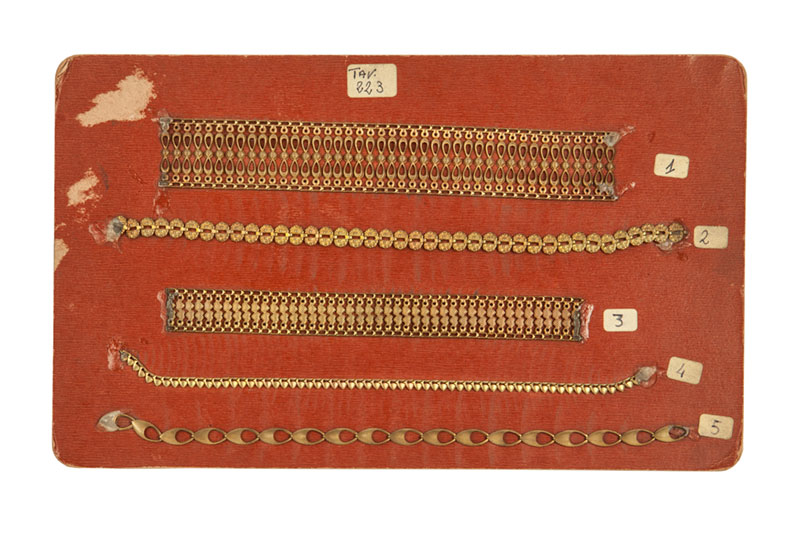 OFFICINA ANGELO TOVO
TAV. 223, 1960/70 ca.
"Hooked, fabric effect" chain models

Brass
NADIR STRINGA COLLECTION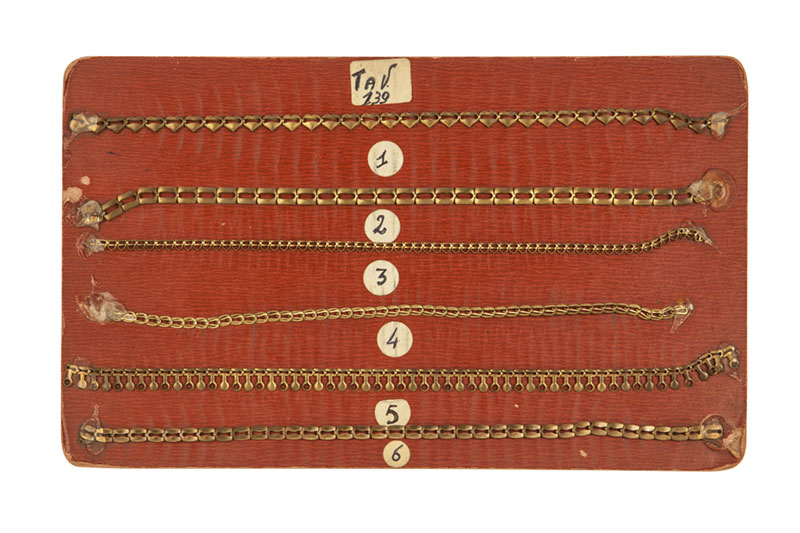 OFFICINA ANGELO TOVO
TAV. 139, 1950/70 ca.
"Hooked" chain models

Brass
NADIR STRINGA COLLECTION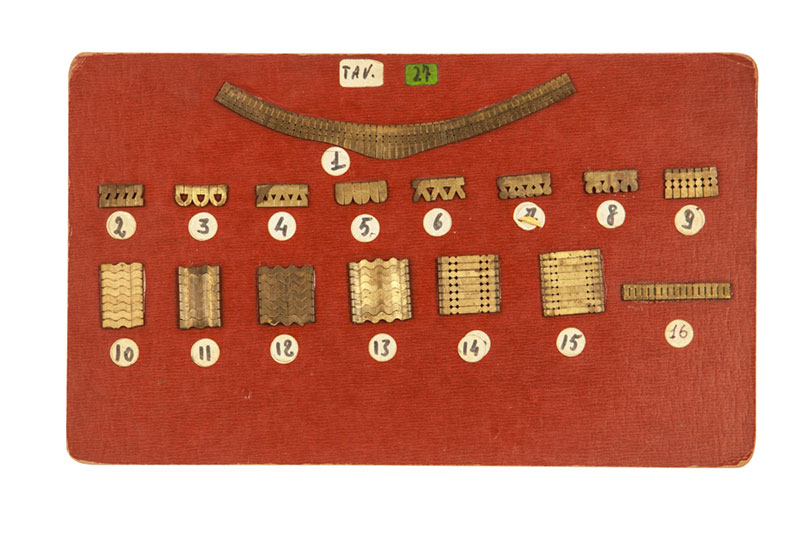 OFFICINA ANGELO TOVO
TAV. 27, 1960/70 ca.
Samples for flexible "woven" bracelets and necklaces

Brass
NADIR STRINGA COLLECTION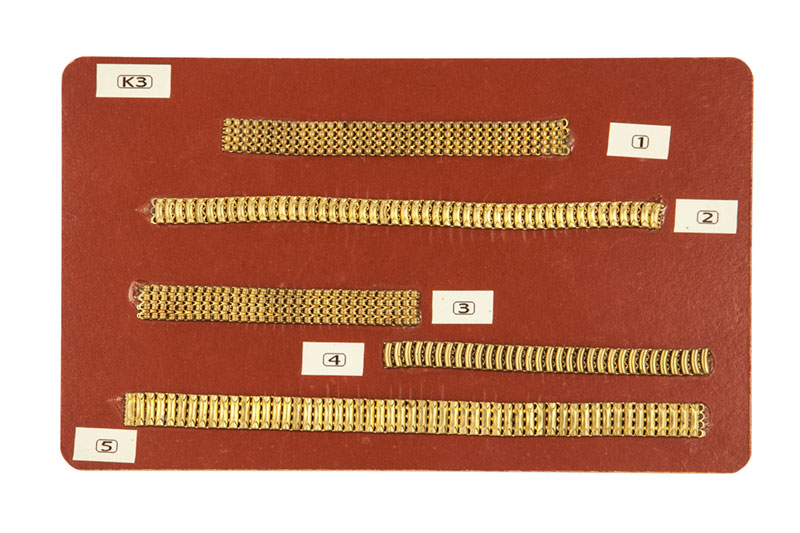 OFFICINA ANGELO TOVO
TAV. K3, 1960/70 ca.
Samples of "hooked" fabric bracelets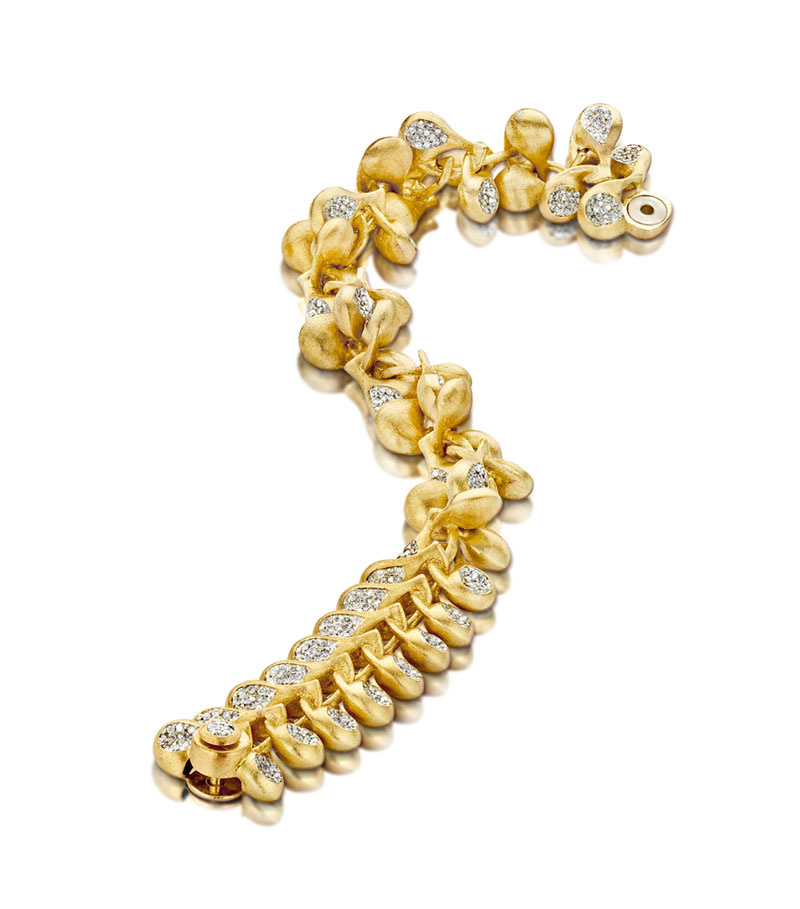 NANIS
Trasformista, 1998
Bracelet

18kt gold, diamonds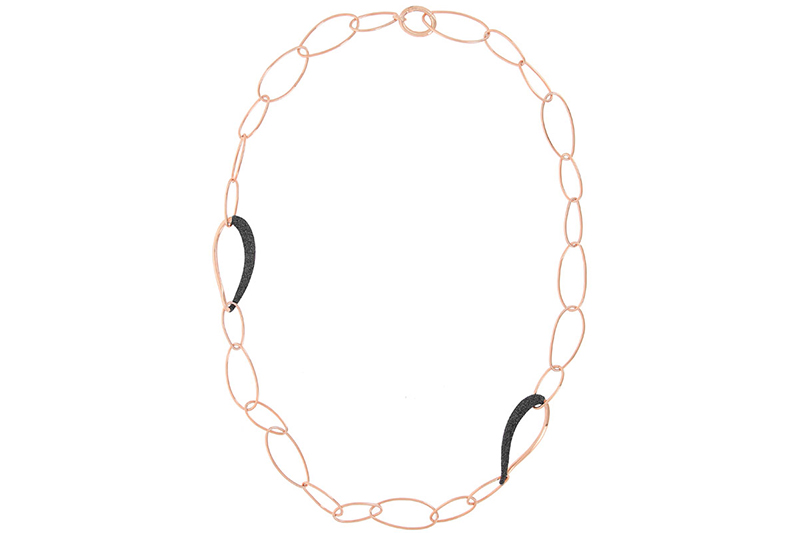 PESAVENTO
Polvere di Sogni, 2017
Necklace

925 silver, pink powder, black powder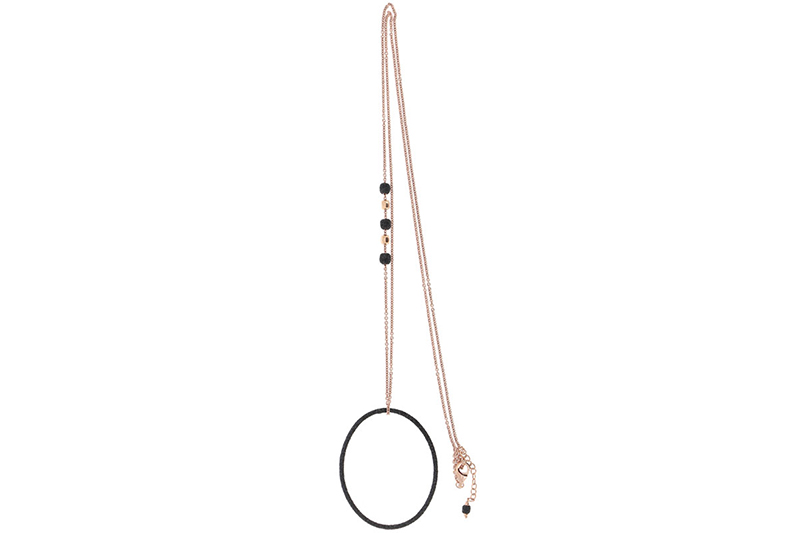 PESAVENTO
Polvere di Sogni, 2017
Necklace

925 silver, pink powder, black powder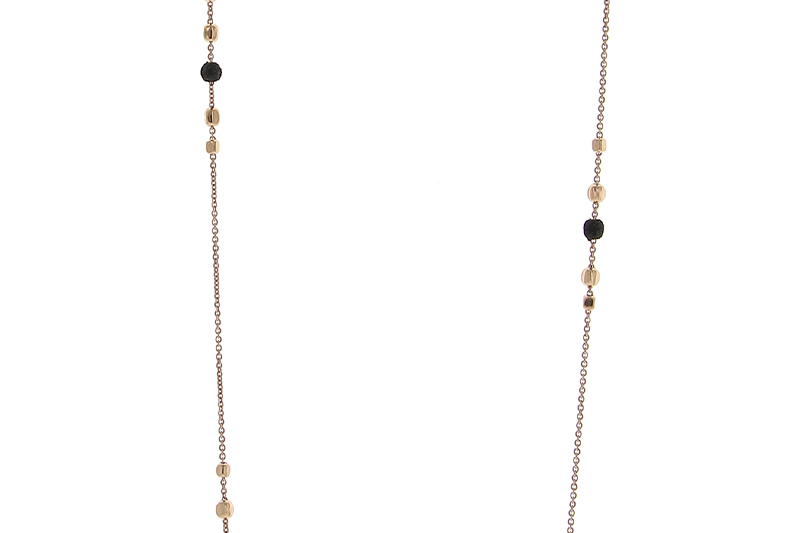 PESAVENTO
Polvere di Sogni, 2017
Necklace

925 silver, pink powder, black powder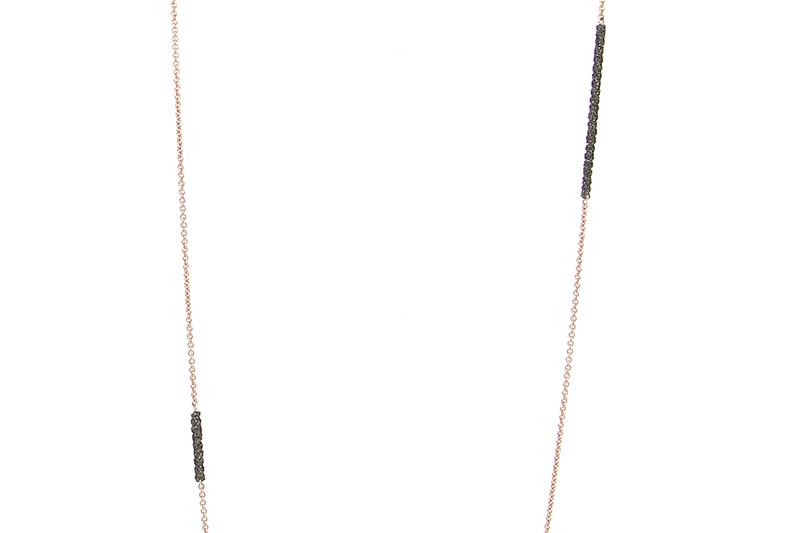 PESAVENTO
Polvere di Sogni, 2017
Necklace

925 silver, pink powder, bronze powder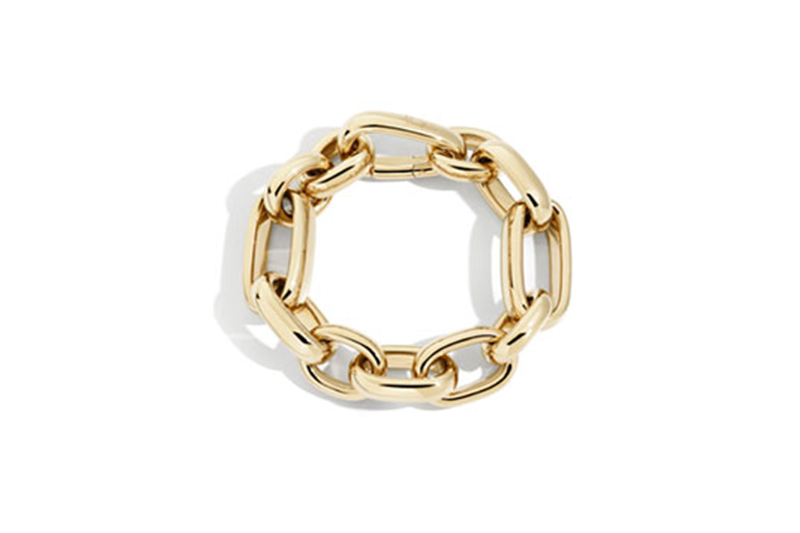 POMELLATO
Iconica, 2017
Bracelet

Pink gold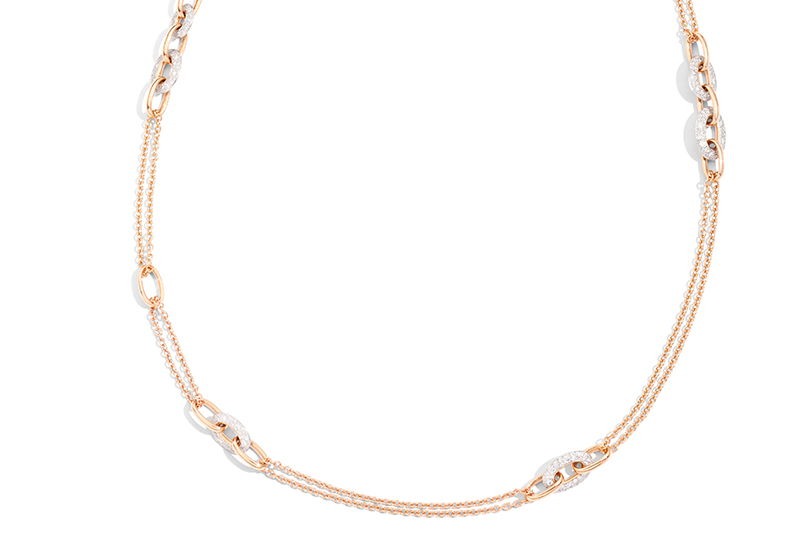 POMELLATO
Tango, 2017
Sautoir necklace

Pink gold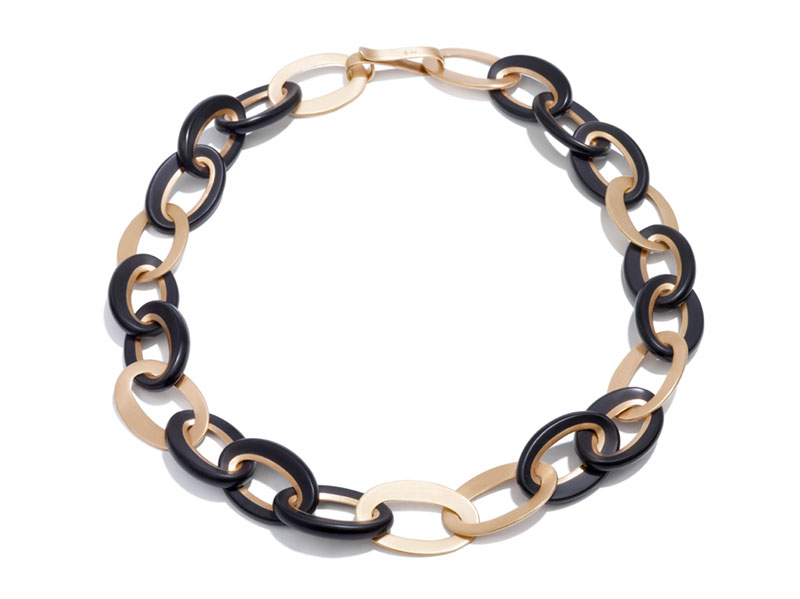 POMELLATO
Victoria, 2017
Necklace

Matte pink gold, jet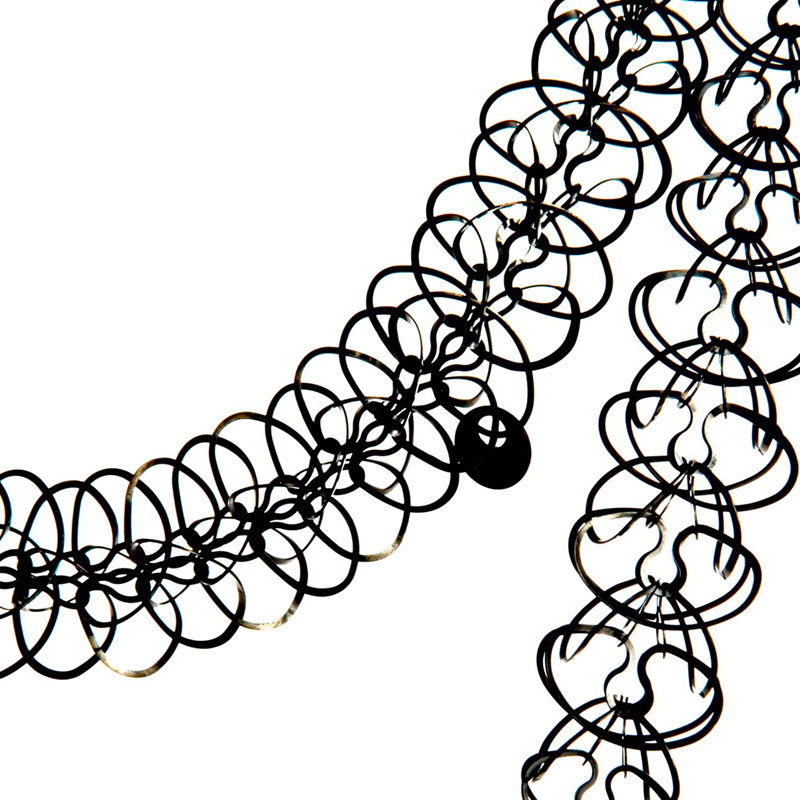 CARLA RICCOBONI
Ellisse 22 curva, ALPHABET Collection, 1994
Necklace

800 silver, black galvanic colouring; chain made of cut modules hooked together without welding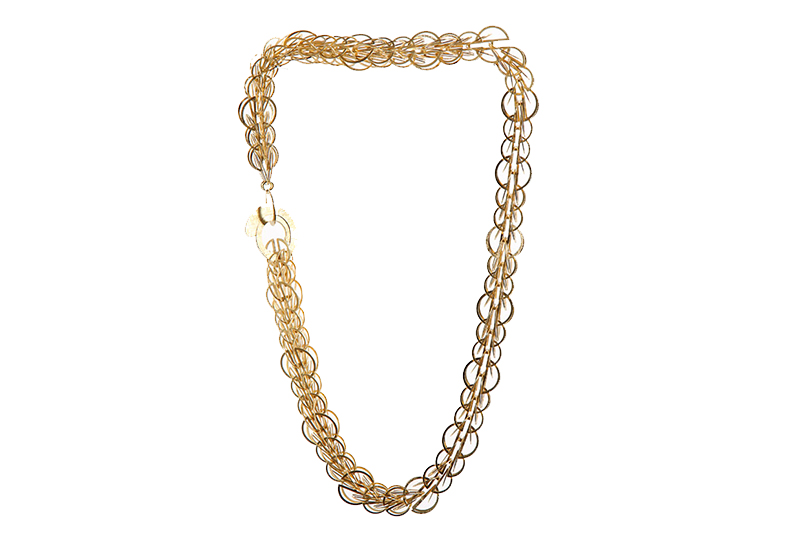 CARLA RICCOBONI
Ellisse 18 piatta, ALPHABET Collection, 1994
Necklace

800 silver, grey galvanic colouring, 750 yellow gold; chain made of cut modules hooked together without welding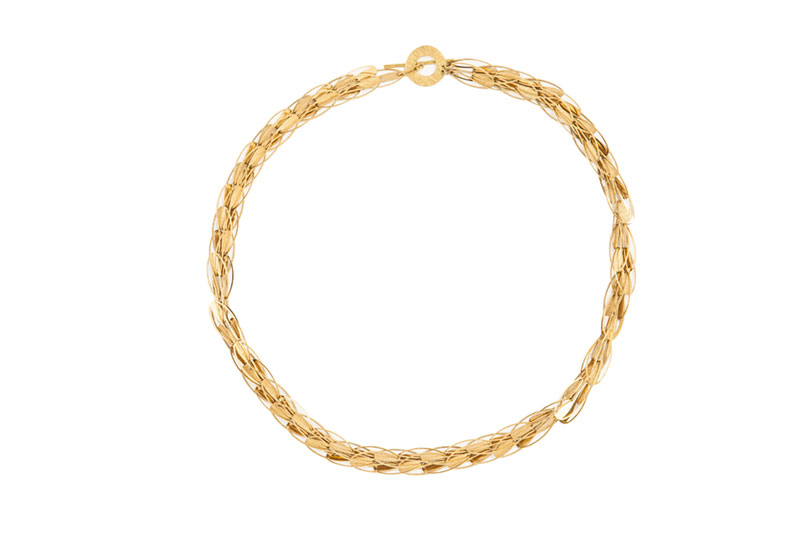 CARLA RICCOBONI
Phitos 17 corta, ALPHABET Collection, 1995
Necklace

750 yellow gold; chain made of cut modules hooked together without welding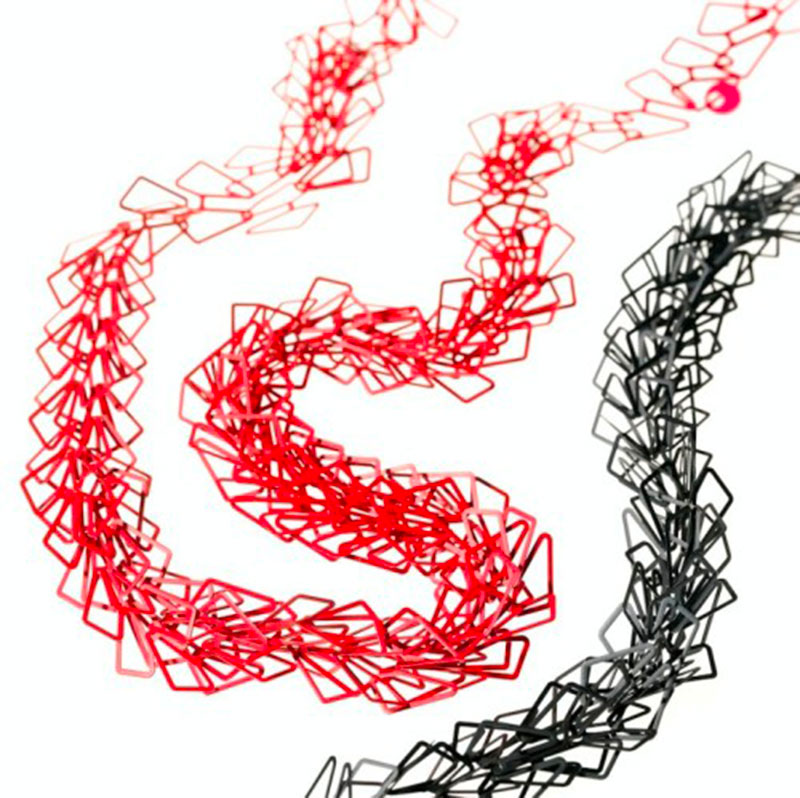 CARLA RICCOBONI
Gamma S-catenata, ALPHABET Collection, 1991-2008
Necklace

800 silver coloured with hot dip epoxy paints; hot dip epoxy colour
CARLA RICCOBONI
Alpha Titanio, ALPHABET Collection, 2010
Necklace

Yellow, light blue, green oxidized titanium, green oxidized silver (clasp); laser-cut modules oxidized in various shades of green and hooked together without welding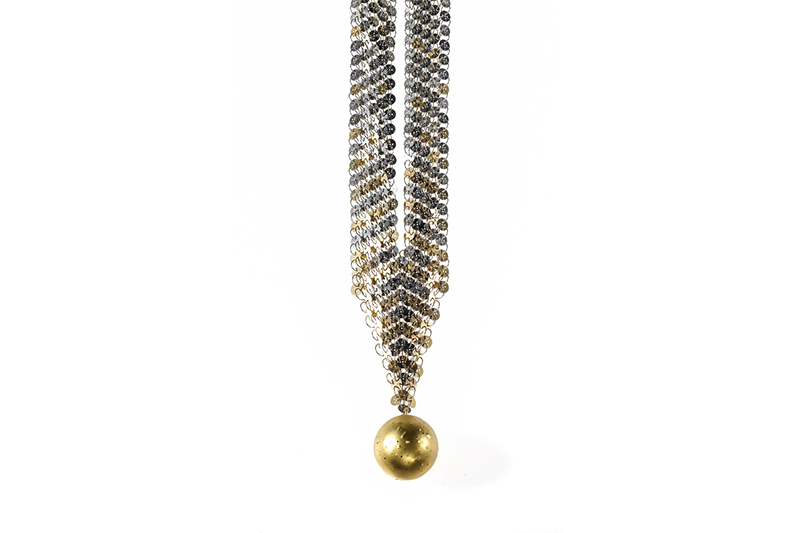 CARLA RICCOBONI
Bisanzio gioiello tessile, VENEZIA Collection, 1990
Necklace

750 gold, 500 palladium; textile jewellery without clasps, rectangular in shaped and inspired by sacred hangings
PRIVATE COLLECTION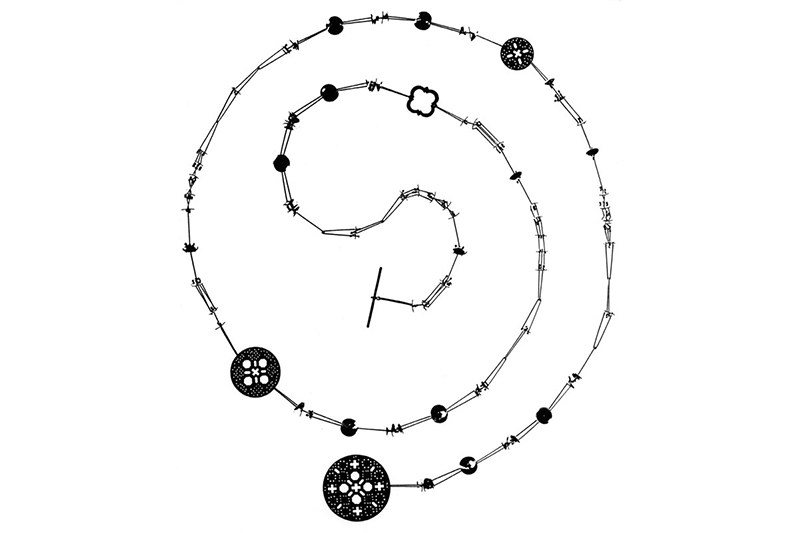 CARLA RICCOBONI
Venezia catena, VENEZIA Collection, 1990
Necklace

750 gold; prototype made of small disks linked by wires of various shape and length and larger disks, hand-fretted with patterns of Arabic-Byzantine origin
CARLA RICCOBONI
Rotolo gioiello tessile, ROTOLO Collection, 2011
Necklace

Black oxidized 925 silver; textile necklace made of small spirals in flattened and welded silver wire linked together by rings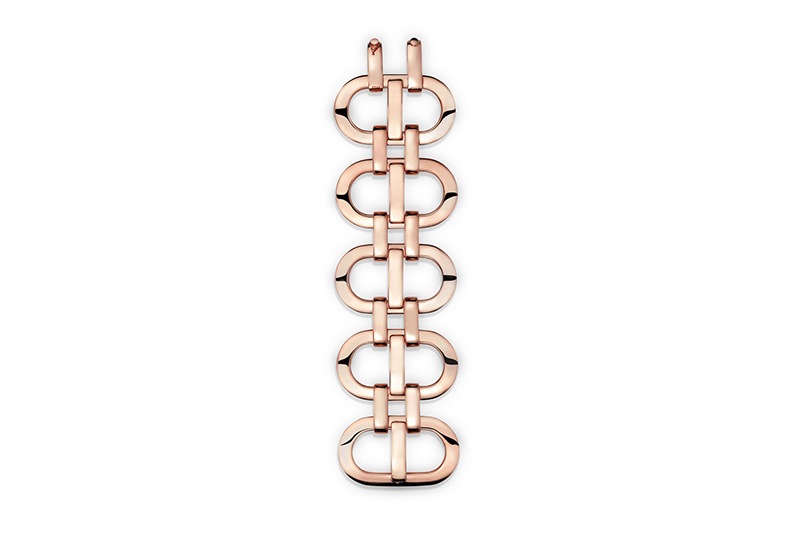 ROBERTO COIN
Oro Classic, 2015
Bracelet

Pink gold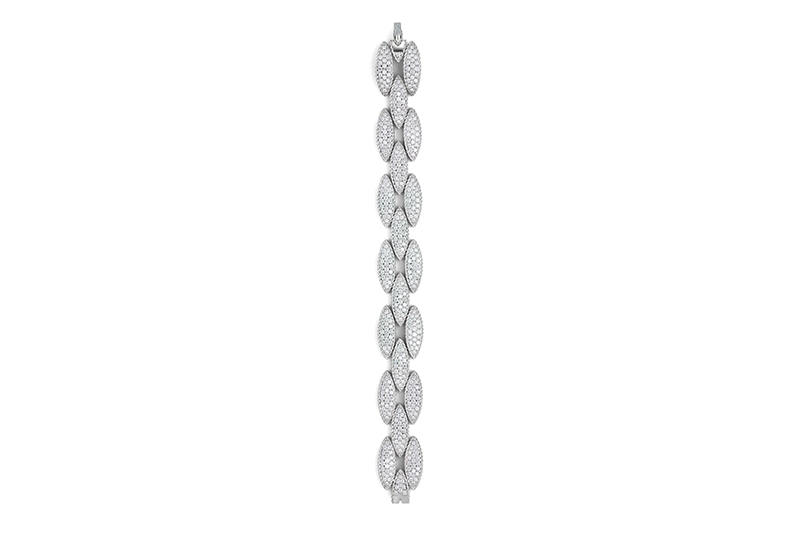 ROBERTO COIN
Collezione Retrò, 2015
Bracelet

White gold, diamonds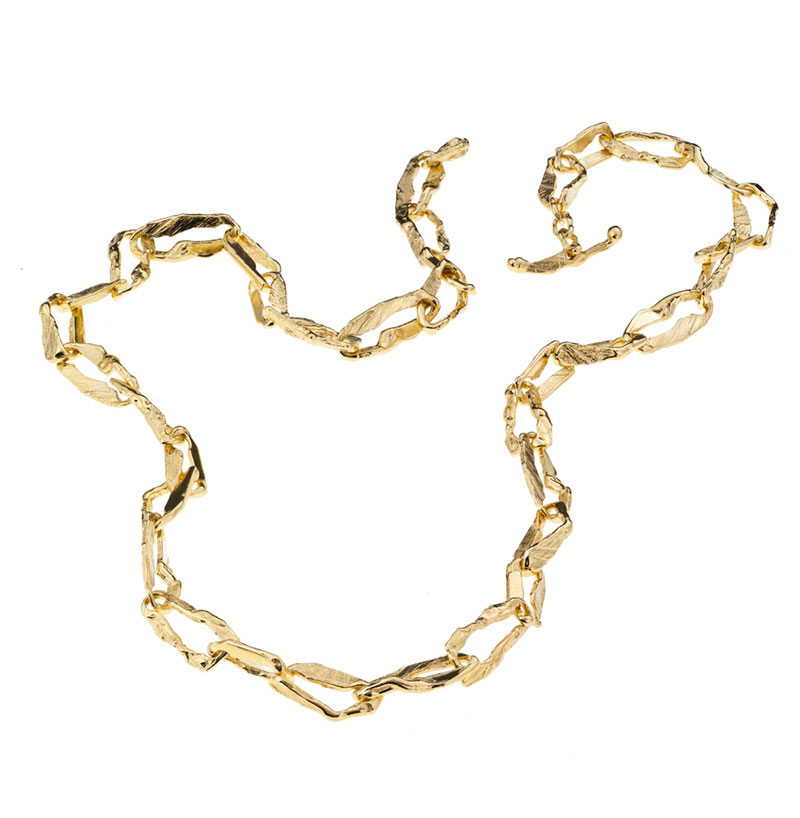 BARBARA UDERZO
Gilettina, 2004
Necklace

750 gold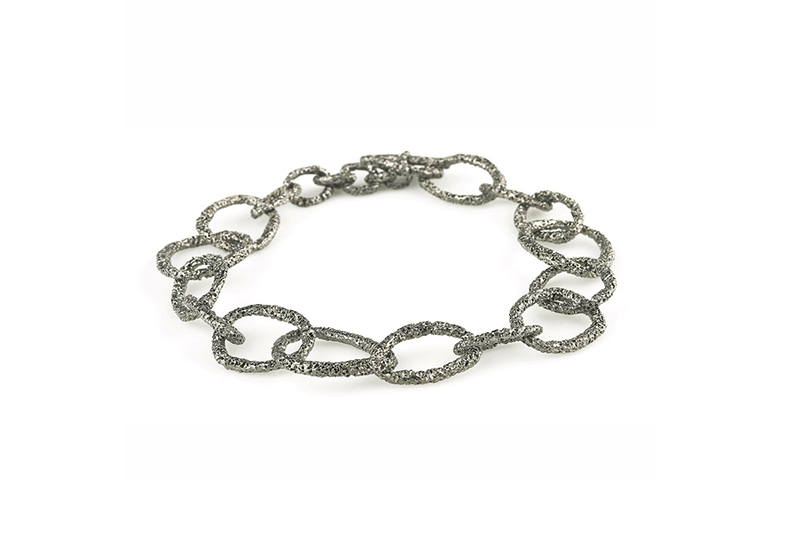 BARBARA UDERZO
Riccio, 2005
Necklace, bracelet

925 silver; rhodium-plated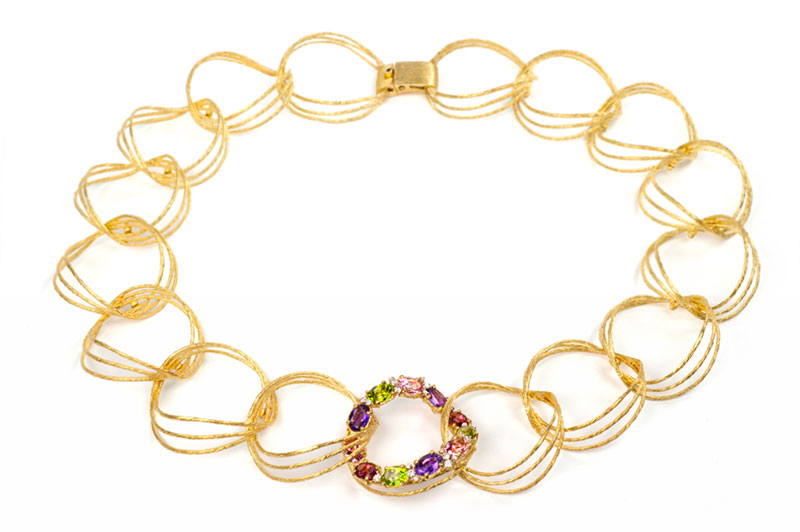 VENDORAFA LOMBARDI
Lace, 2016
Necklace

18kt yellow gold, amethyst, peridot, rhodolite, pink topaz, white diamonds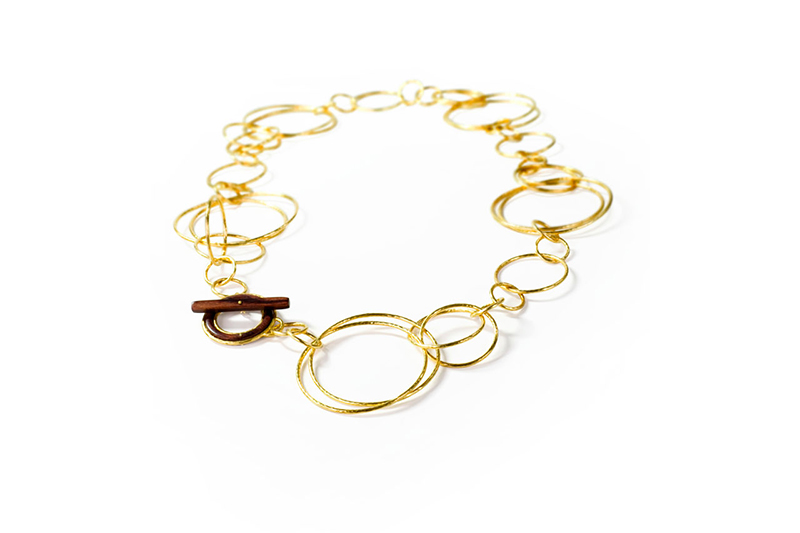 VENDORAFA LOMBARDI
Etnica, 2014
Necklace

18kt yellow gold, wood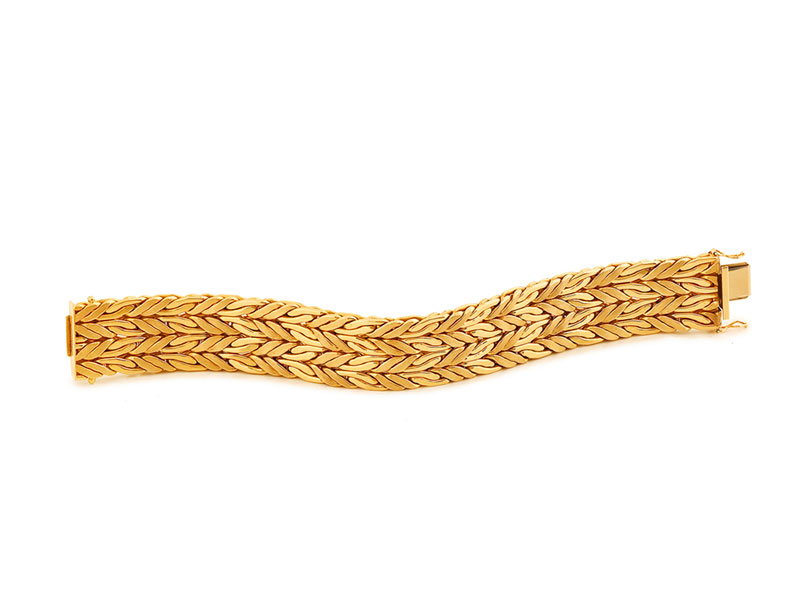 UNOAERRE
Bismark, early 1950s
Bracelet

750 gold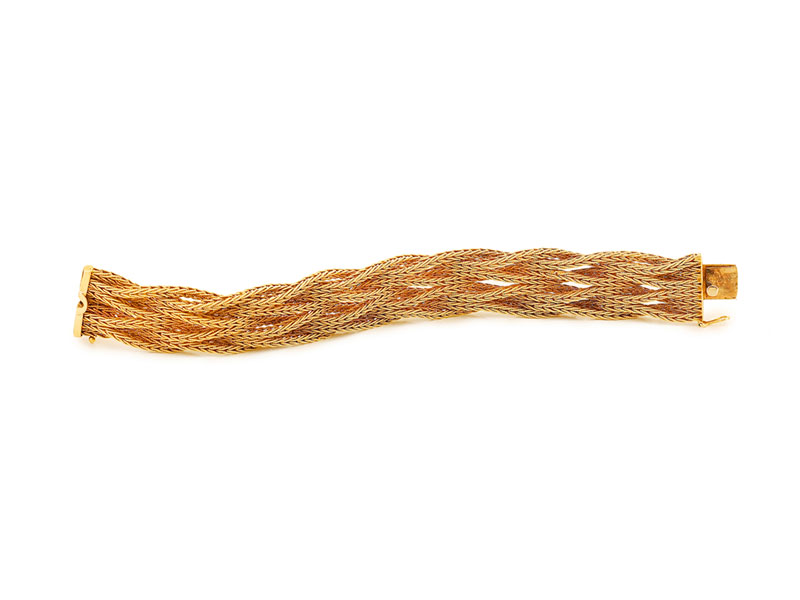 UNOAERRE
Etrusca (fiocco in fiocco), Second half 1950s
Bracelet

750 gold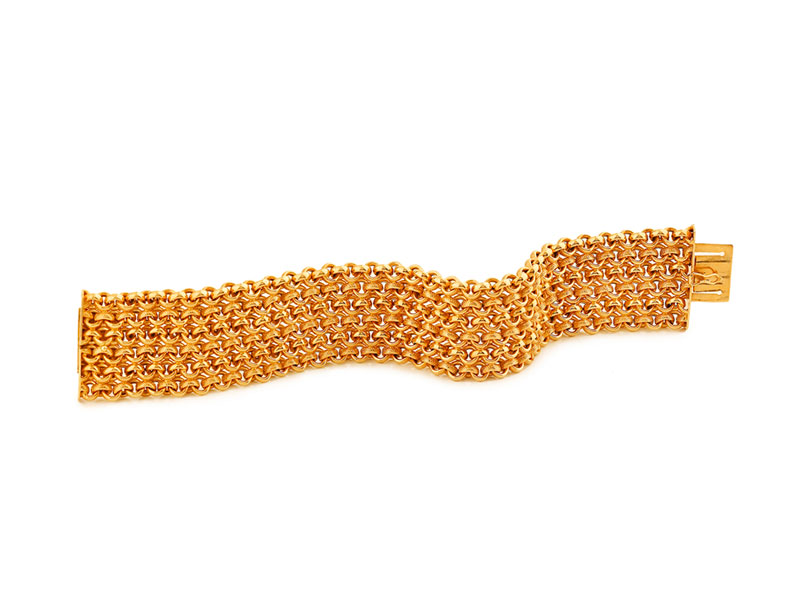 UNOAERRE
Gourmette, primi anni '60 - early 1960s
Bracelet

750 gold; chain with plastically deformed right and left mesh pairs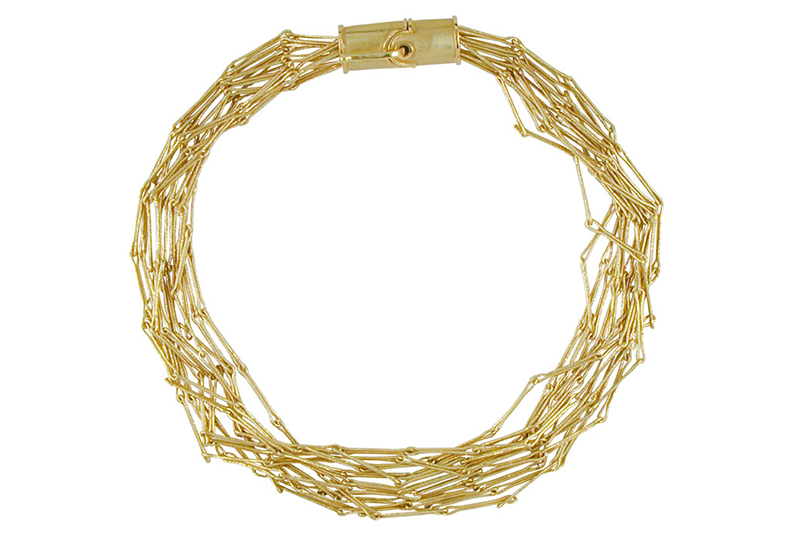 DANIELA VETTORI
Preziosi Legami, 1998
Necklace

750 gold; hand-made by fire and hammer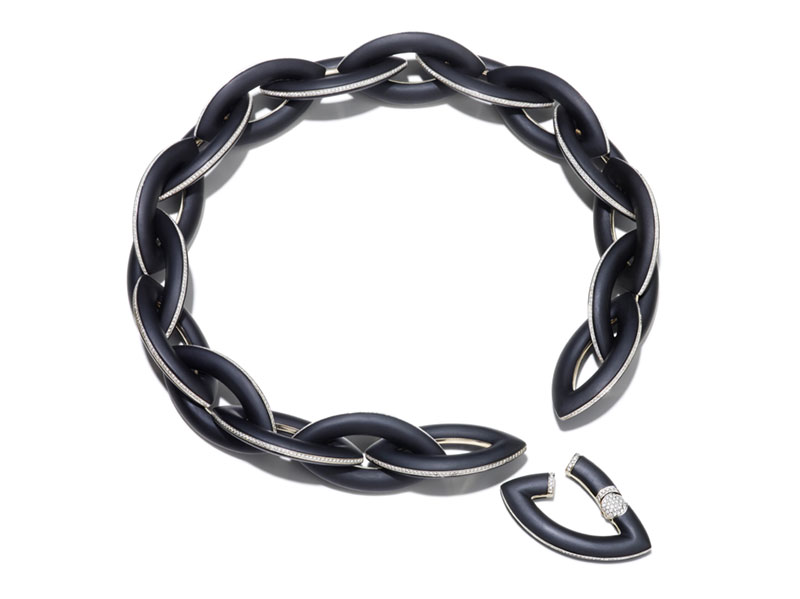 VHERNIER
Doppio Senso, 2009
Necklace

White gold, jet, diamonds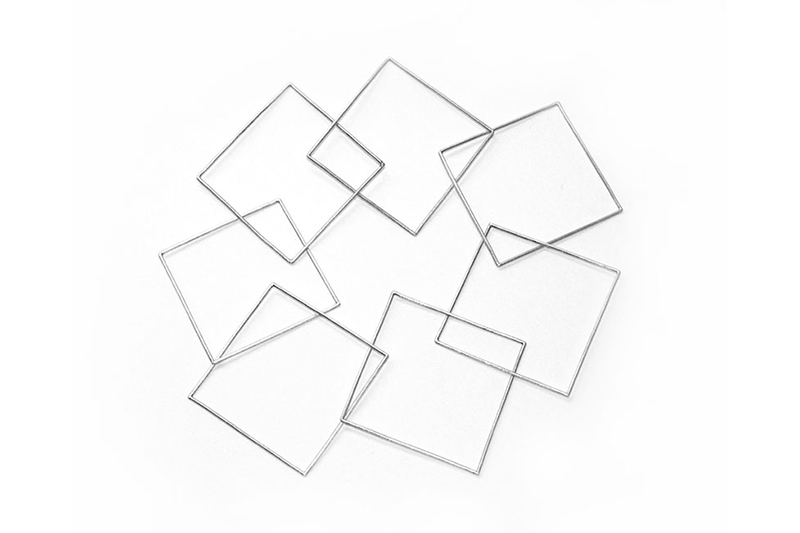 ALBERTA VITA
IN-QUADRATI, 2014
Necklace

925 silver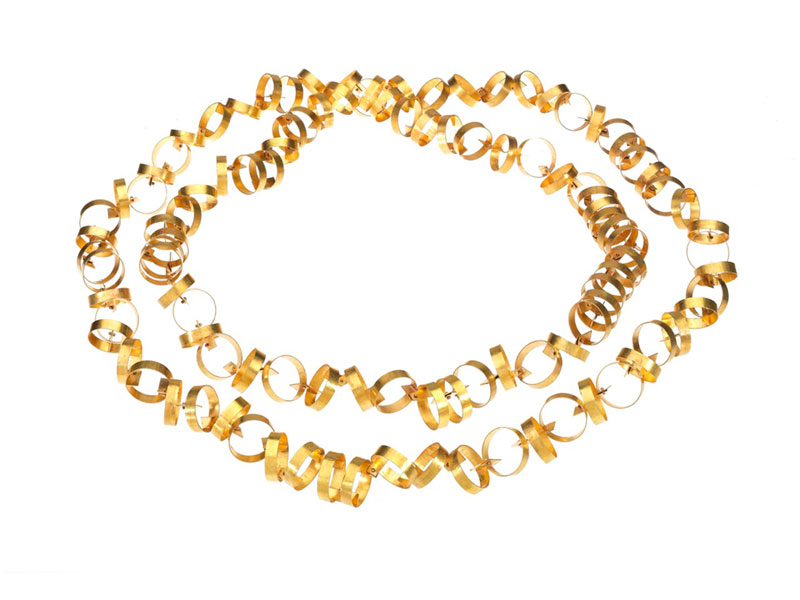 GIAMPAOLO BABETTO
2017
Necklace

750 yellow gold