THE MUSEO DEL GIOIELLO LIGHTS UP FOR VICENZA'S WHITE NIGHT EVENT
Saturday, 24th June, open until 11 pm, with free entry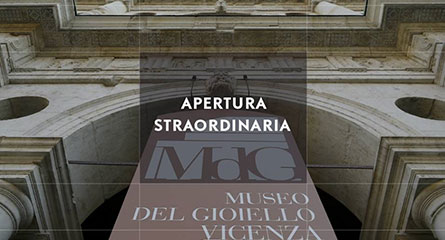 The Museo del Gioiello jewellery museum is opening its doors for Vicenza's White Night event, scheduled for Saturday 24th June. To mark the event, the museum will be open from 11 am to 11 pm, instead of 7 pm, with free entry for visitors.
The Museo del Gioiello will therefore be brightly lit for the city of Vicenza's first White Night, a manifestation organized by the Council, the Hyper Cultural Association and OFF Events, which will see the historical town centre alive with music, entertainment and events in all the squares.
Outside the usual opening times and under an unprecedented and highly suggestive light, visitors will be able to partake in the original aesthetic and cognitive experience offered by the Museum, the first in Italy and one of only a few in the world dedicated exclusively to jewellery.
On the upper floor, the public will be able to enjoy the second edition of the biennial exhibition where 400 jewellery items of rare beauty are displayed in 9 themed rooms, each under the curatorship of an international expert, which reflect the principle meanings behind jewellery: Symbol, Magic, Function, Beauty, Art, Fashion, Design, Icon and Future. Guided tours are programmed with the Museum Director, Alba Cappellieri, and some of the room curators.
The ground floor, however, is currently hosting the "Dames and Knights" temporary exhibition (on show until 17th September 2017), which, with 40 items featured, celebrates and recalls the historical tradition of honorary jewellery.