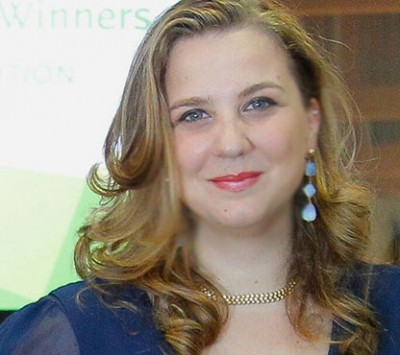 Biography
Lisa Contini was born in Carpi, in the province of Modena, on 29 April 1987. A passion for art and specifically, for jewellery was a strong presence from her early days at school, leading her to attend an art-based high school, the Istituto d'Arte Statale "Gaetano Chierici" in Reggio Emilia, specialising in Metals, in 2001.
In 2007, she began a degree course in Fashion Design - Goldsmiths Section, at the Faculty of Architecture of Florence University, located in Scandicci, graduating with honours in 2011, with a thesis on "Magnetic Jewellery".
In 2015 she was selected to attend the Jeweller Design course at Polidesign in Milan. This experience allowed her to enter the "Next Generation Jewellery Talent Contest 2015" with the theme "Jewellery for Peace" coming third with the necklace "Frammenti d'unione", a project created thanks to Prof. Alba Cappellieri and with the support of lecturer Stefano Marchetti.
Her interest in the history of antique jewellery, together with research into the symbolic meanings linked to these pieces led to the development and design of traditional shapes and styles reinterpreted in a modern key, which still form the basis of Lisa's design research, in the hope that this never-ending passion can become an integral part of her work in the future, and constant personal and cultural growth.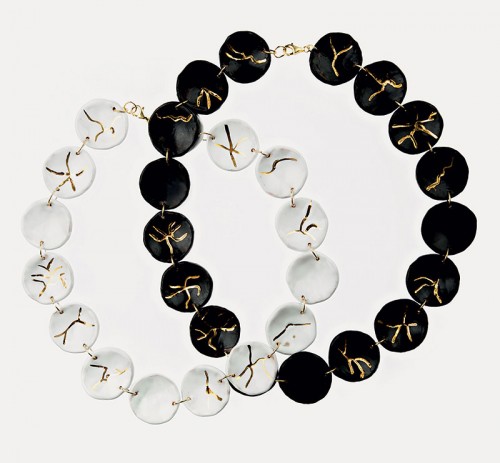 Frammenti d'unione
Lisa Contini - 3° prize ad ex aequo
for Terre BluFrammenti d'unione, 2015

necklaces
red clay, enamel, silver, gold
"Argue as much as you wish, throw the dishes around, but never finish a day without first making the peace", Pope Francis. Thus was born the idea of a white, immaculate plate as a symbol of peace; but this peace is broken. How to bring it together again? The next step was to draw inspiration from an ancient Japanese technique called kintsugi which consists in bringing together broken items by filling the cracks with a glue made from gold, giving the object an added value because it has a story to tell, and a bond broken and reforged even stronger than before.
The development project is based on a module in the form of a white, intact plate symbolising peace from the module in the shape of a cracked plate in three variants, which tells of the difficult path for achieving peace: the closer one gets to it, the more the cracks vanish, and everything is repeated for the entire length of the necklace. This jewel testifies to the fact that peace is not a point of arrival: it can be broken again and this commitment to seek it must constantly be repeated, so that it becomes a common goal.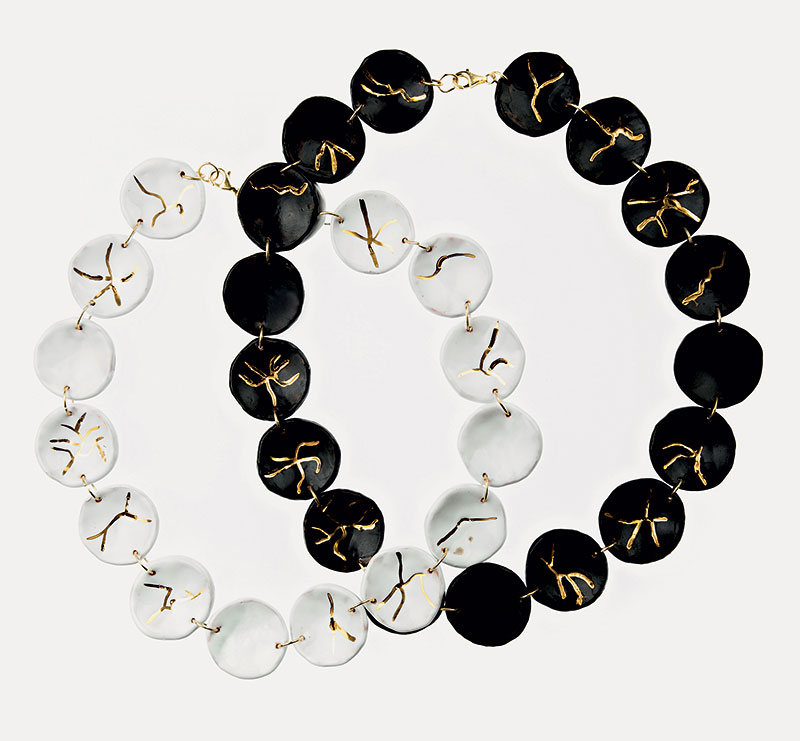 Frammenti d'unione, 2015
Italy
Lisa Contini
for Terre Blu
necklaces
red clay, enamel, silver, gold