Edible jewels
produced by young designers
using food
and cooking techniques
In a very unusual exhibition, the Museo del Gioiello of Vicenza presents the work of thirty-three young designers and masters of jewellery dedicated to food. Food is not only the matter or the inspiration for these jewels but also offers food for thought on the evolution of contemporary society and its rituals. The value of these jewels lies not in the materials of which they are made, but rather in the haunting beauty and boldnessof the project with which they look forward, anticipating innovative scenarios.
Livia Tenuta
Viola Chiara Vecchi
Salt Layers e Crystalized line
Francesca Caccioppoli
Salt layers 2015
Rings
steel, isomalt, black salt, pink salt, white salt
The rings have created to reveal all the beautiful colours salt can offer. The three types of salt are "set" within a transparent isomalt structure.
The necklace is the result of an observation of the process of sugar crystallisation around a surface. The black-coloured sugar crystallises
around two brass wires creating a sharp contrast.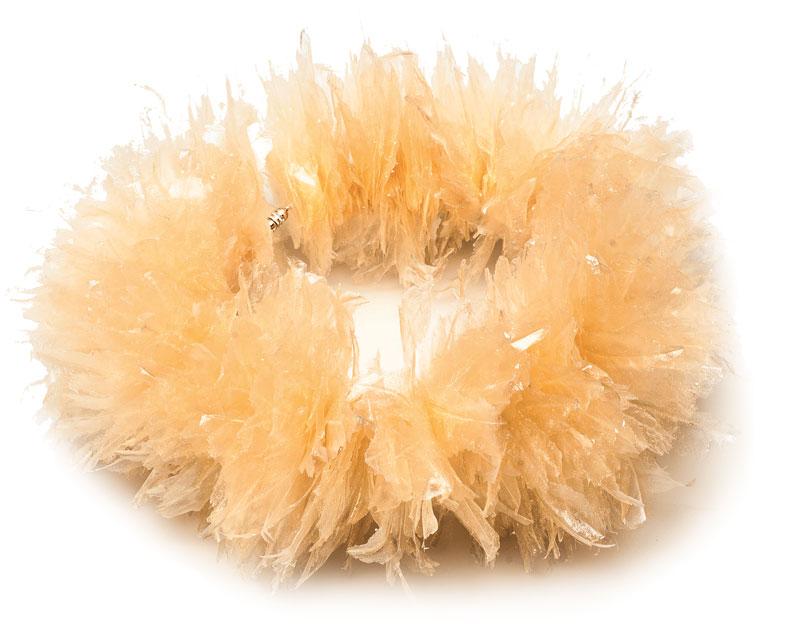 Daphne 2015
Noemi M. A. Cantarero
Daphne 2015
necklace
fish glue, magnet
The Daphne necklace is inspired by the myth of the metamorphosis of the nymph who, to escape the love of Apollo, transformed herself into a laurel plant; only her beauty remained unchanged. Since that time, the laurel plant has been a symbol of glory and power. Similarly,
the necklace aims to show how, using an unusual and fragile material like gelatine, it is possible to create a unique jewel that can present strength and delicacy at the same time.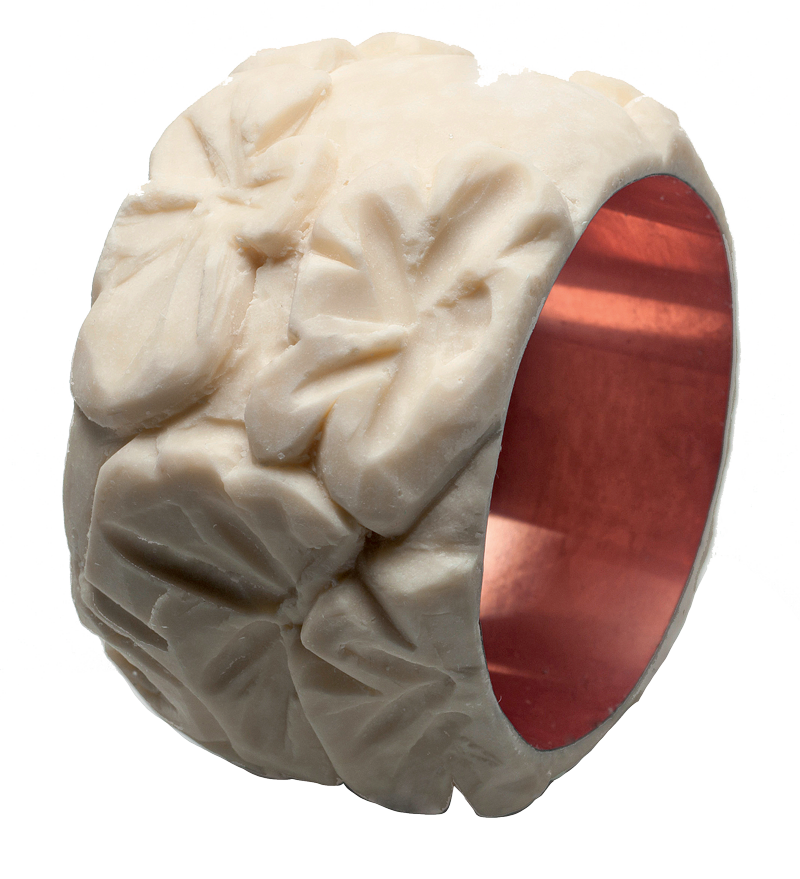 Ivory Chocolate 2015
Laura Frasnelli
bracelet
white chocolate, copper
I have used white chocolate to create a bracelet that had the appearance of ivory. The technique used is that of sculpture. Inside the
bracelet, a copper plate has been inserted to add value and robustness to the jewel. The tools used are those for wood carving: gouges.
Appletizer 2015
Roberta Fustinoni
bracelet, earrings, necklace
apple, plexiglas
The Appletizer collection is inspired by fall: the shapes of petals, the shadows of fallen leaves, the high contrast between warm colours, the ruffling of the trees in the cold wind. The main but hidden protagonist of the jewels is the apple: the queen of autumn fruit.
Ruff and Voids 2015
Beatrice Montalbetti
necklace
pasta, lace
The inspiration for the necklace comes from the ruff, the characteristic aristocratic clothing for women and men in vogue between the sixteenth and the seventeenth century. Pasta revisits this old accessory, turning it into a modern and topical concept. A lively play of volumes and planes of pasta gives life to an unexpected gem. The whole is enhanced by the subtle addition of lace that enriches and makes this sophisticated object of design even more unique. The food is thus examined in a precious and playful way, in an alternation of light and refined forms.