Jewellery is traditionally a symbol, whether of love, power, social status, identity or memory, as well as a symbol of devotion, sentiment or territory. Here we are presenting you with an extraordinary selection of symbolic jewellery that offers a fascinationg voyage through the symbols and values of humankind: from extremely rare, unique pieces like Pauline Bonaparte's parure, Barbara cartland's pearls or the Sasson crown to aristocratic jewellery and precious souvenirs and on to Victorian mourning jewellery and wedding rings.
Curated By Stefano Papi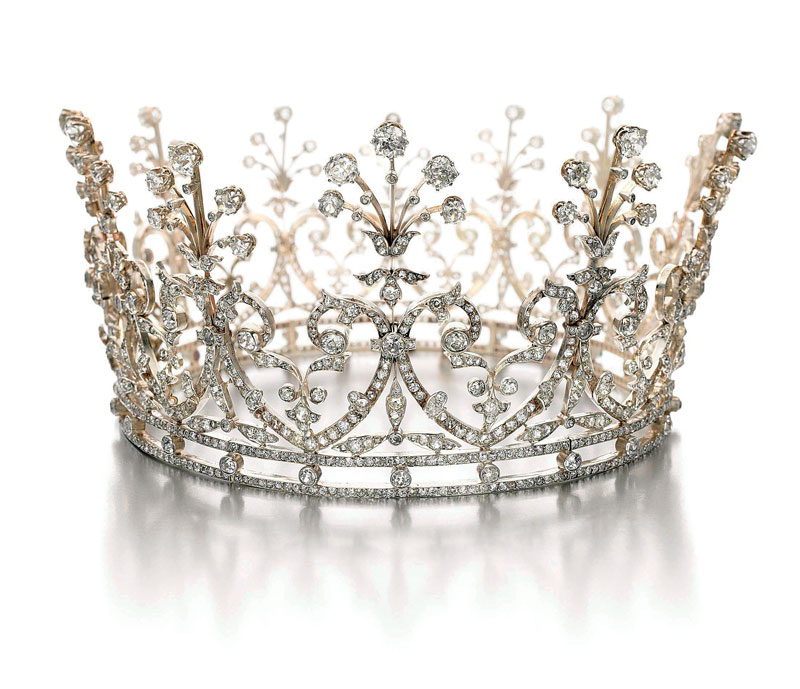 Coroncina
End of the 19th century
ø 39 cm, Gold, silver, old mine-and circular-cut diamonds
Private collection, from the collection of Mrs Flora Abraham Sassoon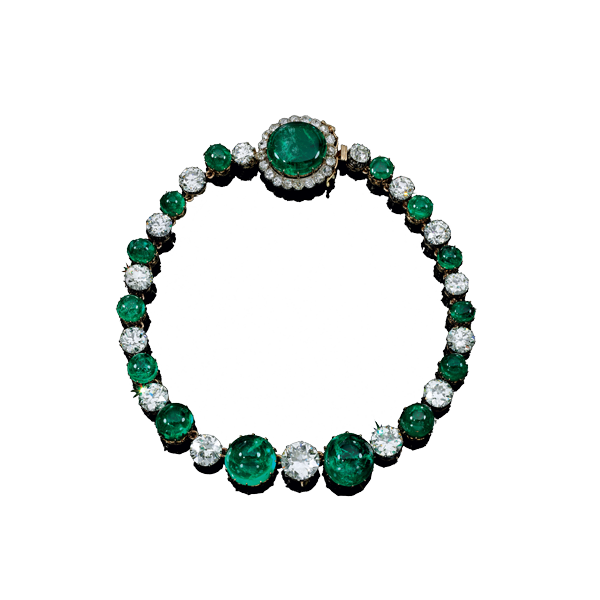 Collana Rivière
c. 1910, gold, platinum, diamonds, emeralds
ø. c. 35 cm
private collection

Important riviera necklace composed of a line of circular-cut diamonds alternating with cabochon emeralds, set in gold and platinum. The clasp, added later, and consisting of a cabochon emerald bordered by circular-cut diamonds, was originally a brooch.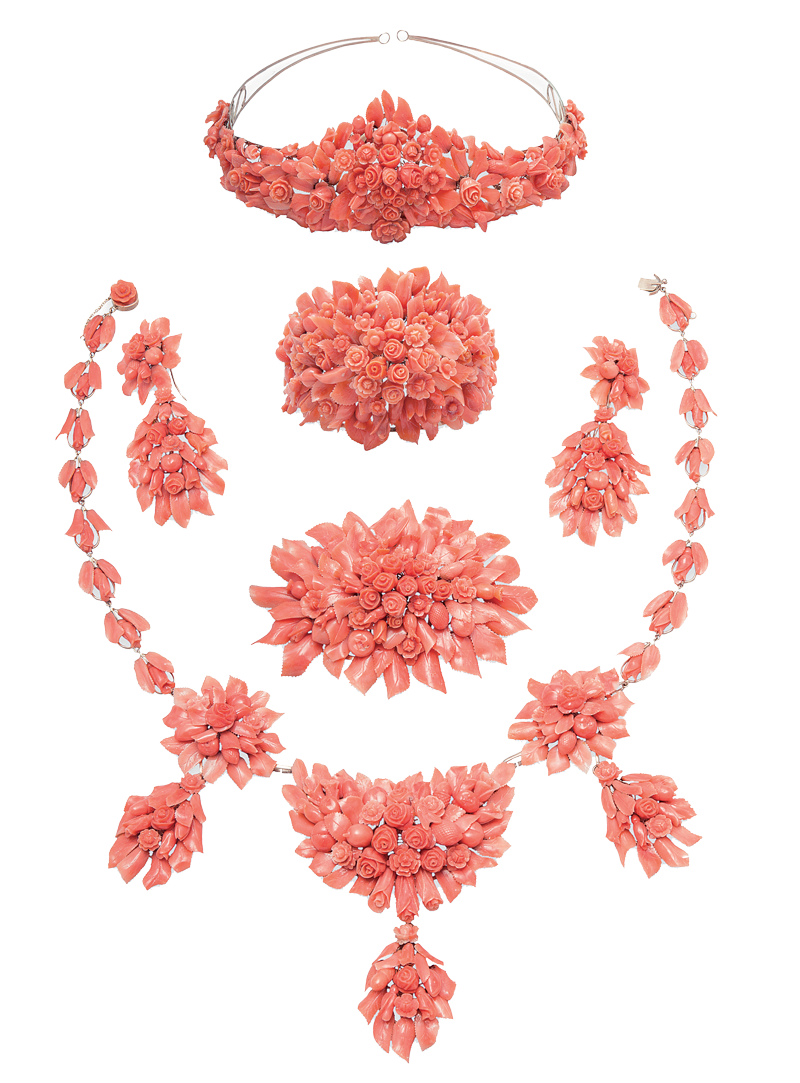 Parure
Torre del Greco, second half of the 19th centurycoral and goldEnzo Liverino collection
Comprising bracelets, brooch and earrings in coral, engraved in a naturalistic style.
Pendente
Designed by Margherita Burgnerwhite gold, diamonds, chalcedony, aventurine and rock crystallength 6.3 cm; width 5 cm,weight c. 22 g
Cross with a central oval rock crystal mounted on a plate of aventurine quartz. The arms of the cross are chalcedony, and the whole is edged with brilliant-cut diamonds.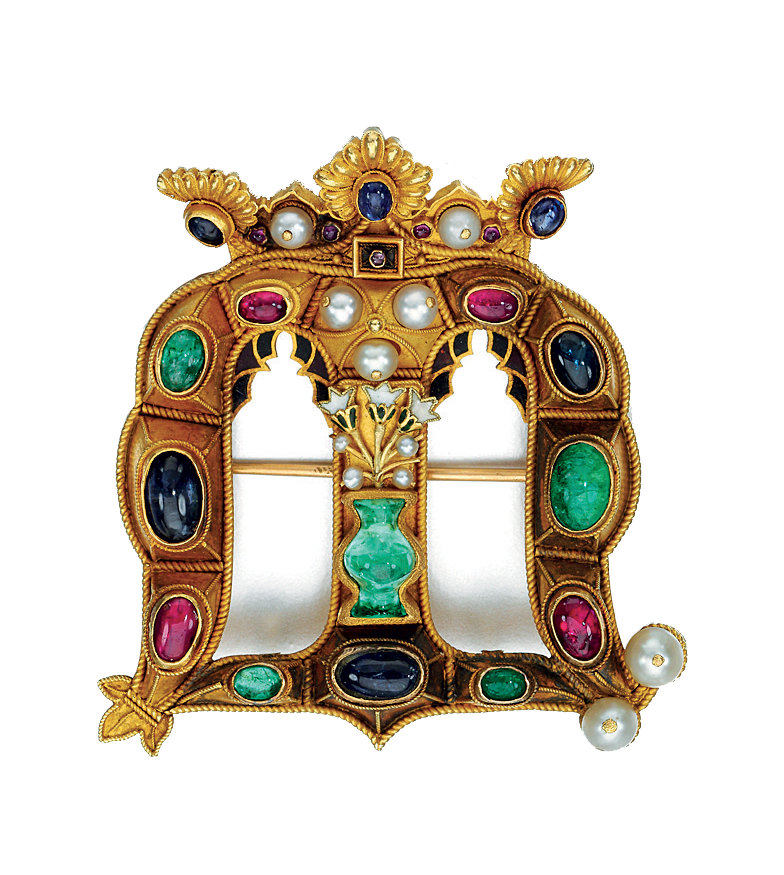 Spilla
Gold, sapphires, synthetic stones and cultured pearls; in the shape of an M for Maria, decorated with sapphires, rubies and synthetic cabochon emeralds and small pearls.The back is worked in gold cording with a double C cross (for Castellani)5.5 Å~ 5.9 cmprivate collection
This brooch is a copy of the Castellani version of the Founder's Jewel, a 14th-century French brooch with a religious subject kept at New College, Oxford. In the original article, as well as the Castellani copy, there is an Annunciation scene, missing from this version. Castellani produced several copies of this brooch and one was given to Princess Maria Pia of Savoy on the occasion of her marriage to King Louis of Portugal in 1862.