Jewellery is often considered to be useless and opulent, without any function beyond that of ornament. The functional jewellery we are presenting you with here proves the opposite. Buttons, buckles, chatelaines, fibulae, hair clips, cufflinks, pins and pommanders are all jewellery pieces with a specific function in relation to clothing and the body. They are functional oblects transformed into jewellery and perfectly embody the taste of the period in which they were made, as well as its materials and techniques, becoming sparkling testimony to the times.
Curated by Bianca Cappello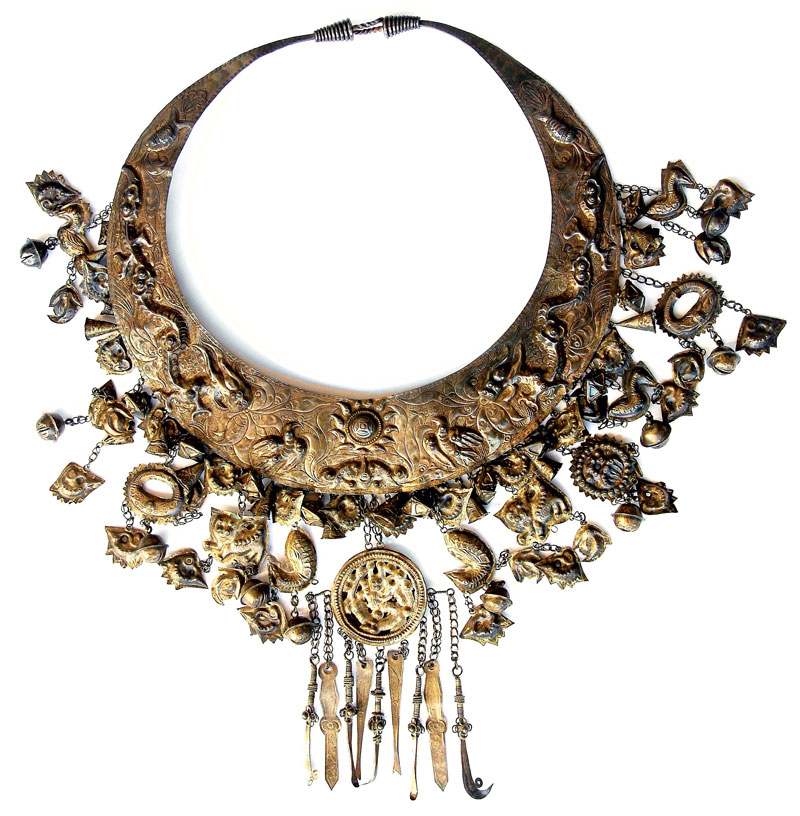 Collana necessaire
China, 20th century
embossed silver
ø 47 cm
Bianca Melesi Maggi collection
The Miao ethnic minority, from the region of Guizhou, wear these huge necklaces during important festivals and ceremonies, in which they take on a magical-religious character. Apart
from the decoration, with subjects drawn from local mythology, the piece also features hanging silver articles that are ornamental but also are useful tools for personal hygiene such as toothpicks, and nail and ear cleaners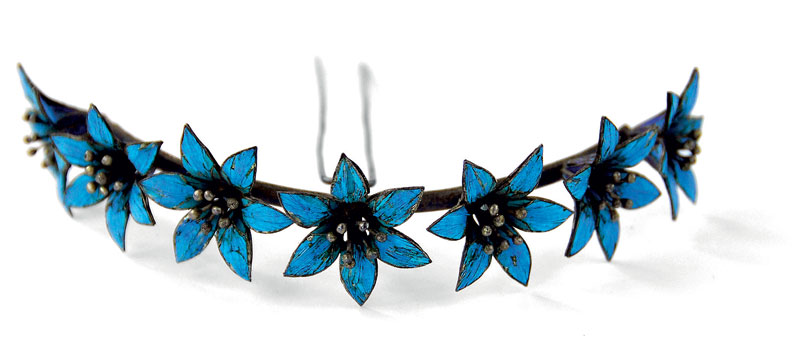 Fermaglio per capelli
China, 19th century
silver with kingfisher (Alcedo atthis)
feathers
12 cm
Bianca Melesi Maggi collection
In China, the feathers of the kingfisher are a symbol of fidelity and marital happiness, and since the Han Dynasty they have been used to adorn jewellery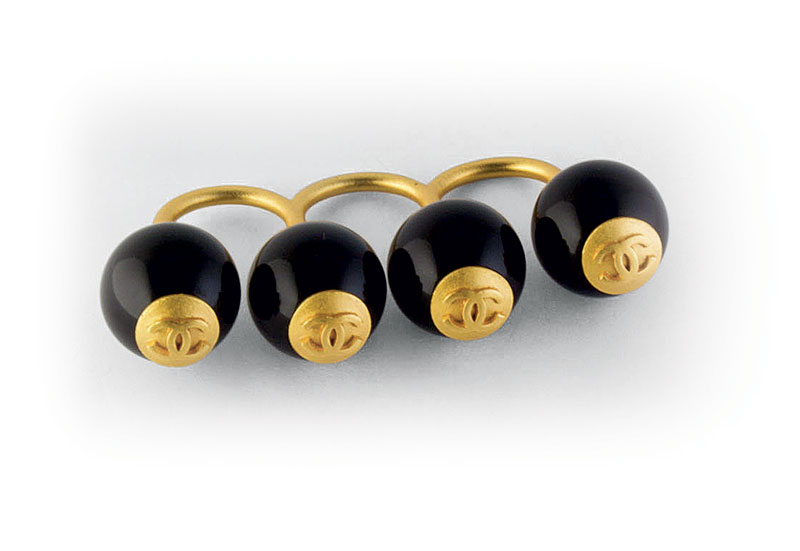 Anello tirapugni
Chanel, 2002
gilded metal, plastic
8.5 x 2 cm
Deanna Farneti Cera collection, Milan
The knuckle duster, the defensive accessory of the underworld, has received ironic treatment from the world of fashion.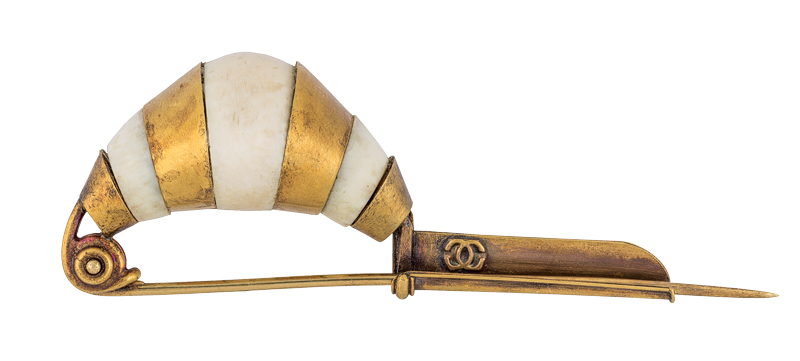 Fibula a sanguisuga
a 19th-century copy of an original Ancient Etruscan piece
gold, ivory 3.5 cm
Rome, Museo Nazionale Etrusco di Villa Giulia, Castellani collection
The name of this type of fibula is derived from the characteristic shape of the animal it refers to. It is obtained by inserting graduated ivory discs into an arch-shaped gold frame.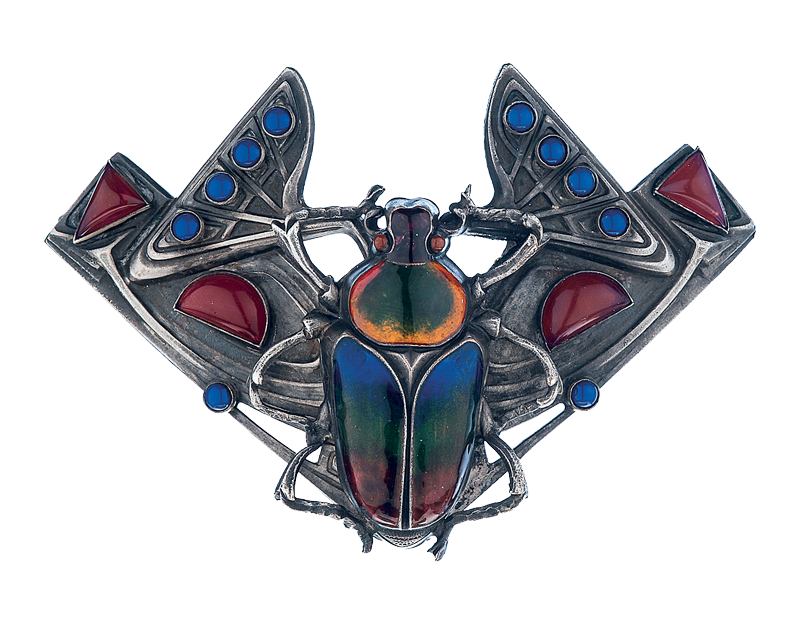 Fibbia di cintura
United States (?), c. 1920–1930silver and enamel scarab beetle9 x cmPaola Spizzico Pennasilico collection
When Egyptomania erupted in 1921 with the discovery of the tomb of Tutankhamun, it quickly infected the jewellery sector, thanks to Cartier, whose scarab beetles have since been copied in all styles and materials from high jewellery to costume jewellery.
Coppia di ferma-velo o asar
Niger Tuareg, Africa,19th–20th centuriesiron, brass, silver and copper, laminated32 cm, 34 cmBianca Melesi Maggi collection
Symbol of prestige for the woman wearing them, these items of jewellery are widely used in countries where the costume involves the use of veils, not only by tradition but also for practical reasons such as protection against sun, dust and wind. Once a piece of fabric is threaded into it, the weight of the clip ensures the veil is weighted down and is prevented from flying off into the desert.