Over the course of the twentieth century, numerous sculptors dedicated themselves to jewellery, transferring to the smaller pieces their own figurative langiagem sometimes as simple miniaturizations, other times instead working directly on the minute scale proper to jewellery itself. For all of them, jewellery is sculpture for the body, a vehicle for concepts and interests propert to art. The selection here is concentrated on international artists who, starting in the 1970s, renewed the links between art and jewellery.
Curated by Graziella Folchini Grassetto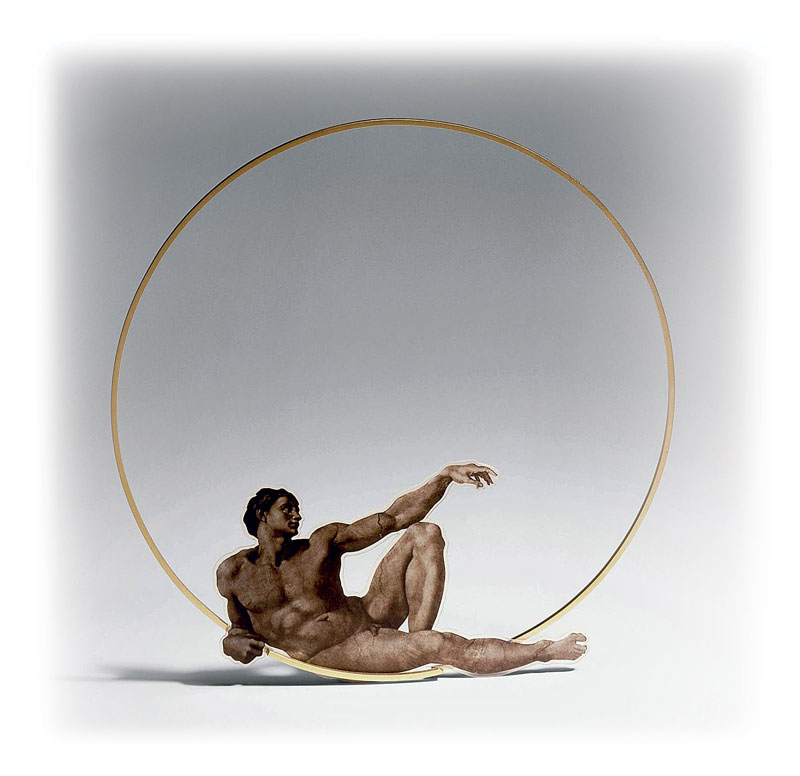 Gijs Bakker
(executed by Aldo Bakker, Florian G.ttke and Rudi Sand)Necklace, Adam, 1988gilded brass, photography, PVC31.2 x 28.4 x 0.9 cm
Adam is alone in the great golden arc that includes and supports him. The divine figure from Michelangelo's masterpiece has been eliminated, but he has bestowed the breath of life on the man who appears to possess it in the glory of his athleticism, in which beauty and strength are exalted.
Lisa Walker
Pendant, 2012
wood, printed flowers, criss-crossed
strips of an oil painting, wire
65.5 x 18.6 x 13.4 cm
A wooden box printed with a flower and covered with parallel strips of an oil painting in imitation of a cage. The container becomes a metaphor for jewellery itself, treasured in a chest, acquiring the magic of the precious.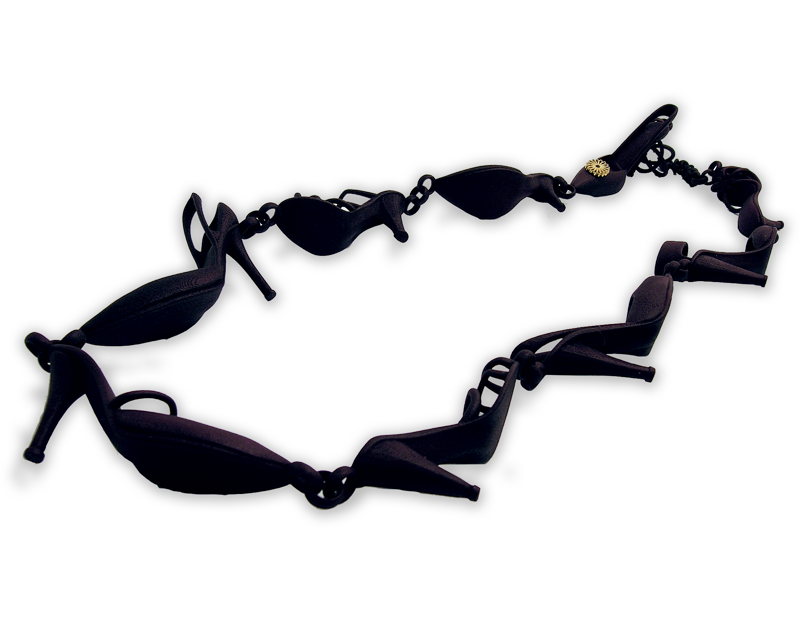 Ted Noten
Necklace, Fashionista,
Golden Girl series, 2010
yellow gold, glass fibre, nylon
length 70 cm
The shoe is stylish: high heels, bows, pleats, straps. The shoes, brought together in a necklace, imitate the erotic expressivity of the foot as it intersects with the shoe, in the sudden discovery of a lacquered nail, the exaggerated tension of the heel, in the suspension and at the same time enhancement of the grace of a thin ankle wrapped in a wide ribbon. Gold decorations emphasize these sensual signs.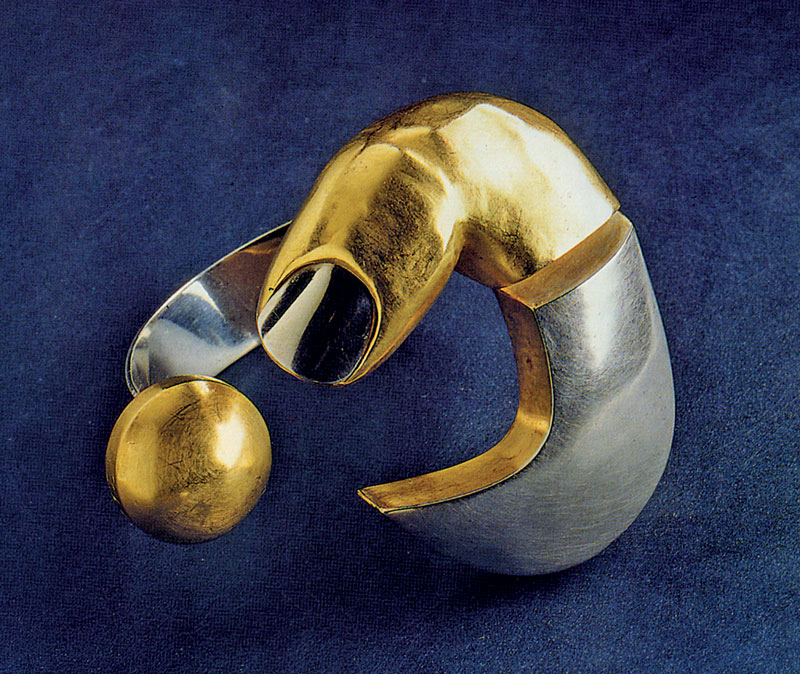 Bruno Martinazzi
Bracelet, Metamorfosi 1, 1973
yellow gold, white gold
7 x 6.3 cm
Metamorphosis is change, the assumption of a new state. It takes place at moments of crisis, danger, terror, where the weak find defence, refuge, escaping their individuality to assume another. The hand, one of the most communicative parts of the body, transforms into a hook, exaggerating its defensive capabilities against a looming threat.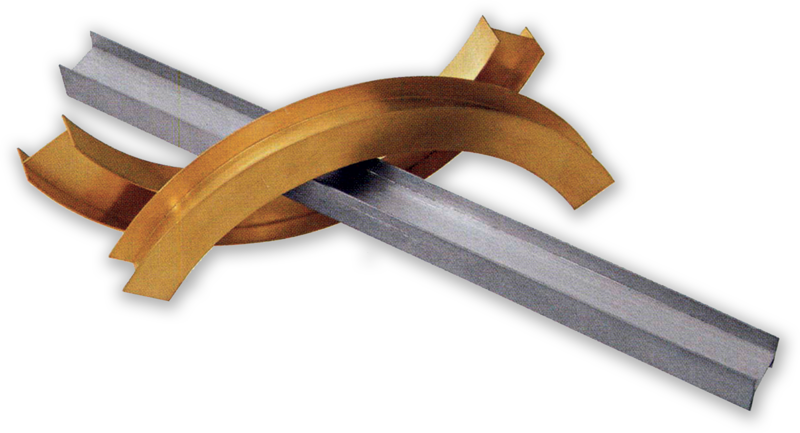 Fritz Maierhofer
Brooch, 1987
yellow gold, white gold
15.5 x 3.5 cm
Bars of different coloured golds intersect in an abstract juxtaposition, calling into question their specific use as structural elements.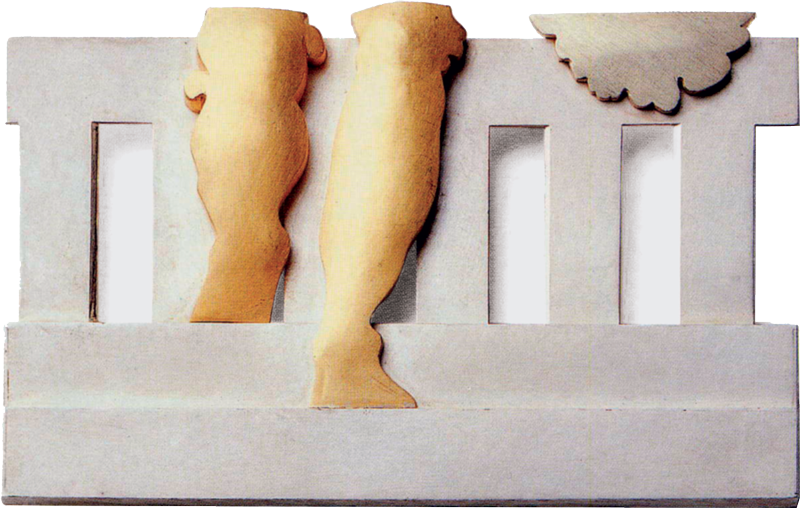 Giampaolo Babetto
Brooch, Da Pontormo, 1989
yellow gold, silver
6 x 9.6 cm
Detail from the fresco Christ before Pilate by Pontormo (Certosa del
Galluzzo, Florence). Here we see only the legs of the cup-bearer, emphasizing the balustrade from which the page is detaching himself. The youthful vigour of the limbs in yellow gold contrasts with the geometric structure in silver, a classic Renaissance composition
which intensifies the simplicity and perspective values.