The jewellery by Maestro Gio' Pomodoro on display
From 22nd March to 2nd September 2018
Organized by Paola Stroppiana
From his first jewellery items in the 1950s, with which he took part at the Venice Bienniele in 1956, Maestro Gio' Pomodoro (Orciano di Pesaro 1930 - Milan 2002) developed his gold art production autonomously and constantly over the decades, often in preparation of the results of his sculptures, for which he is universally famous. Exploring the potential of shape and material, even as far back as 1953, Gio' was already applying the extremely ancient technique of casting gold in cuttlebones, carved in the negative, thus obtaining particular textures on the surfaces, enhancing an extraordinary decorative element. The various types of gold, pink and white, the purposefully moderated inclusion of precious stones, the white gold edging and upside-down border settings characterized his jewellery, which proclaimed a strong organic component and expressed a shift from the figurative to the informal.
As of the late 1960s, his study of the void and linear tensions, expressed in his Superfici in Tensione (Surfaces in Tension) and Folle (Mad) sculptures, was equally noticeable in his jewellery, which had a more mental and rigorous organization of the markings, giving the effect of continual movement and energy tension between the surfaces. Pomodoro knew how to take full advantage of his wide knowledge of jewellery-making techniques gained during his training years and applied both independently and in collaboration with some of the great goldsmiths, particularly father and son Fusari from Graffignana near Lodi, the Fumanti family in Roma and cousin Marcello Lissoni. It was in this period that he produced jewellery for Giancarlo Montebello's GEM brand, one of the first experiments in industrial serial production.
His works of the '70s featured greater geometrism: the mechanical element, enriched with screwing and zips, was accompanied by a striking use of colour shading created with enamels, which were to become key players in his 1980s creations, the expression of a more elaborate and fanciful vision. The prototypes and new research into hard stones for Cesari&Rinaldi in the '90s, led the maestro to a new creative season, full of experimentation in terms of design and colour.
Paola Stroppiana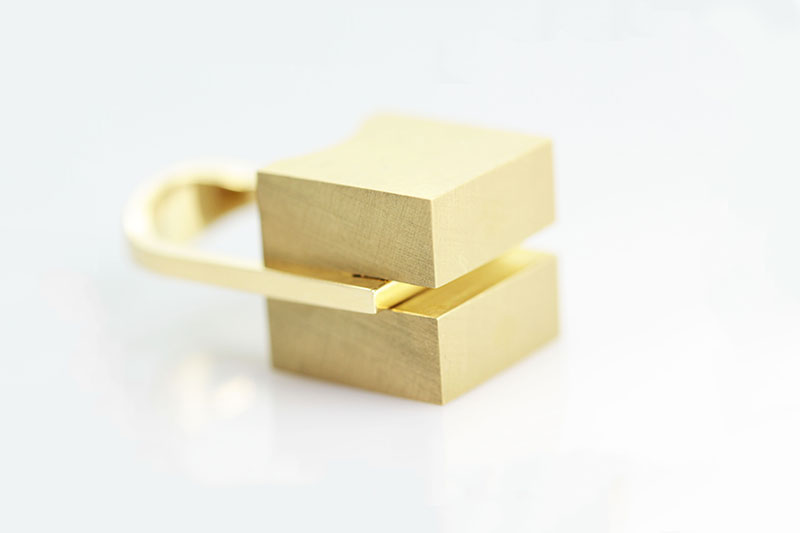 study for a stirrup ring and cube, 1995

18kt gold and brass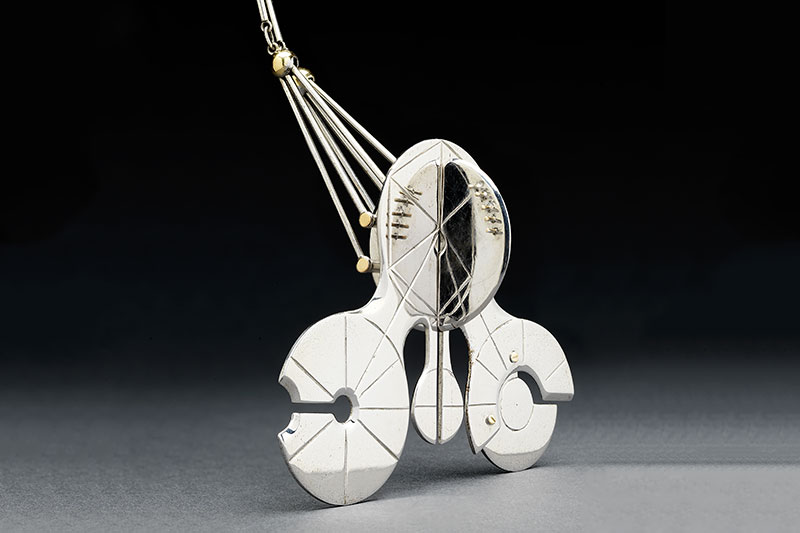 1967 model GP1 for GEM Montebello
Necklace, rhodium-plated silver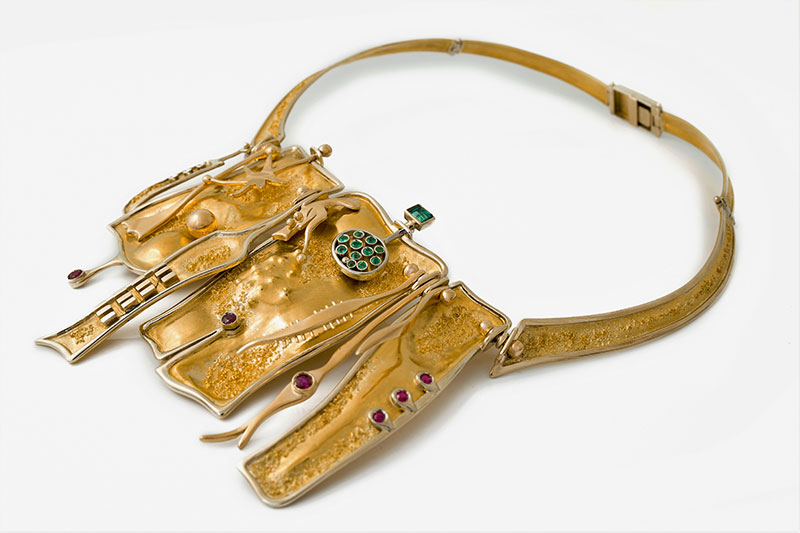 Necklace, 1964

pure gold, red gold, white gold, emeralds, rubies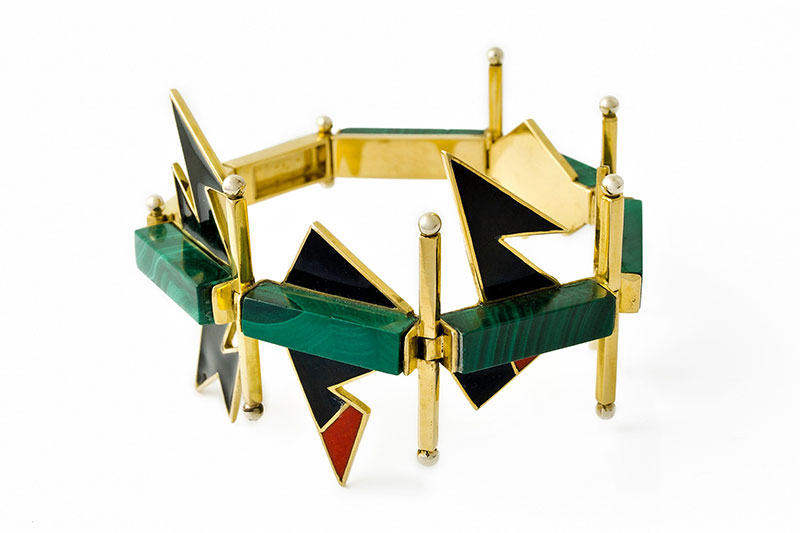 bracelet, 1972

white gold, yellow gold, malachite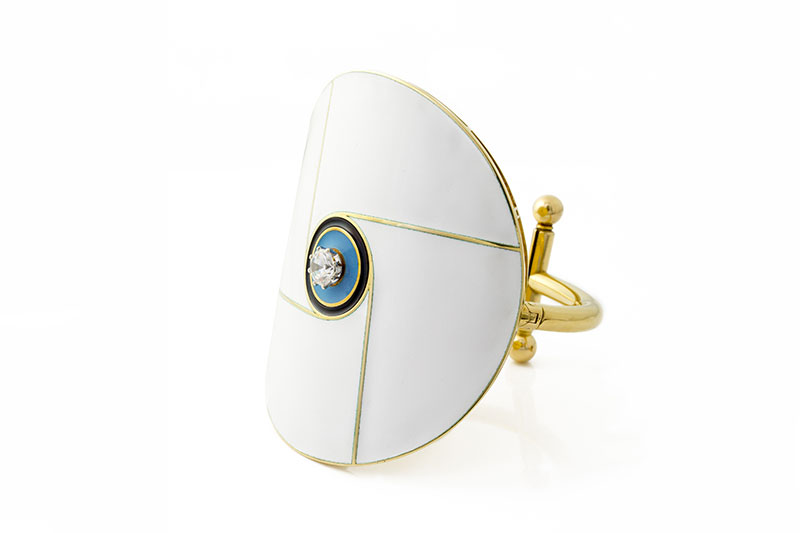 bracelet, 1980
yellow gold, white gold, enamels, sapphires, diamonds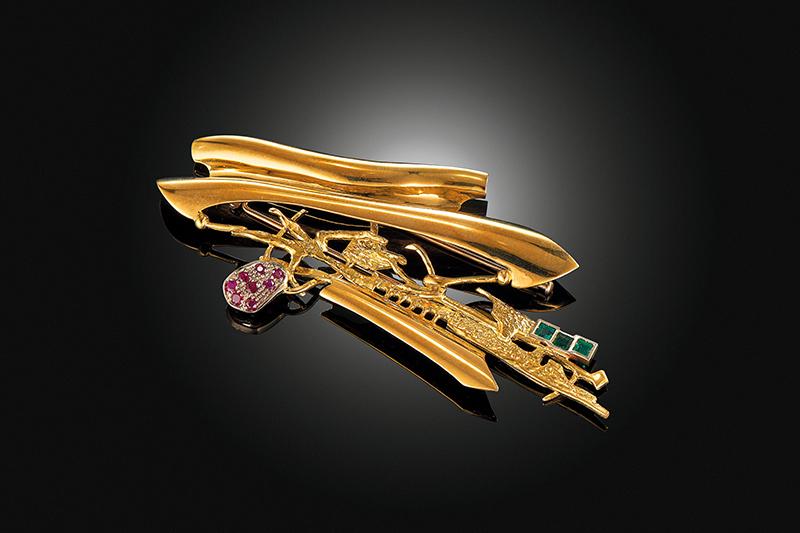 brooch 1958
yellow gold, white gold, emeralds, rubies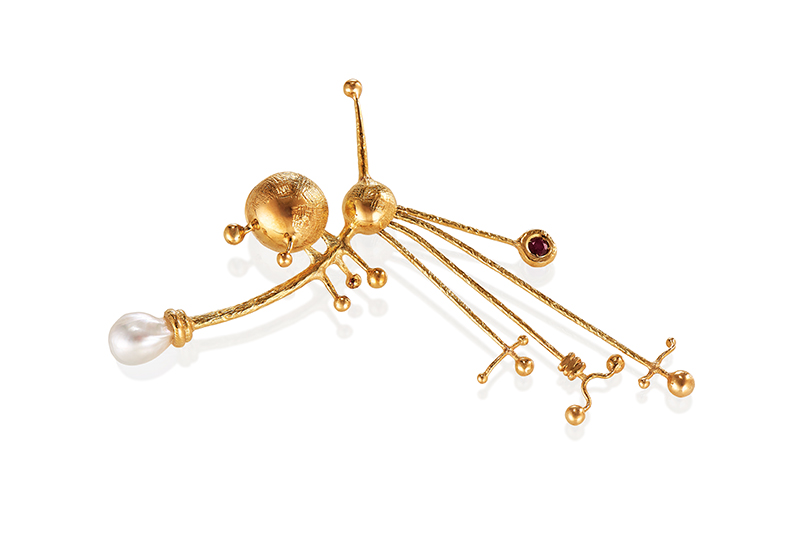 single earring, 1957
yellow gold, ruby, Baroque pearl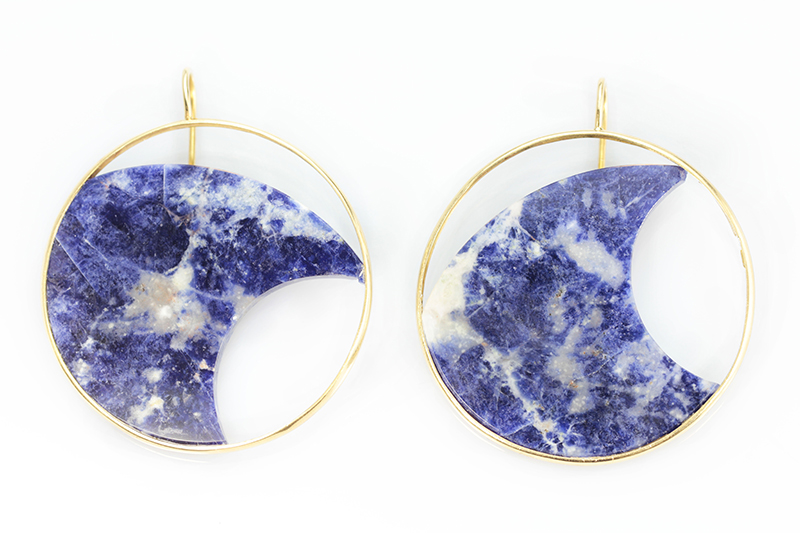 Vela earring, 1993
18 kt gold, sodalite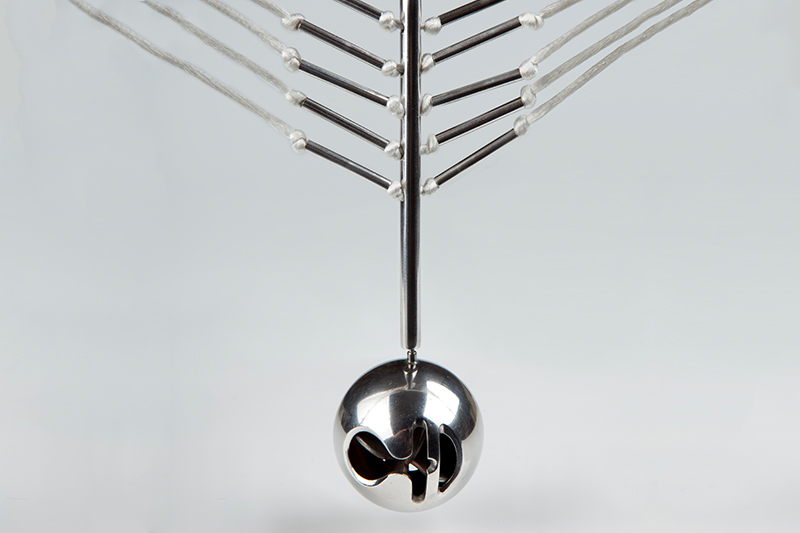 necklace, 1967
model GP4 for GEM Montebello, rhodium-plated silver, courtesy of Didier Ltd, London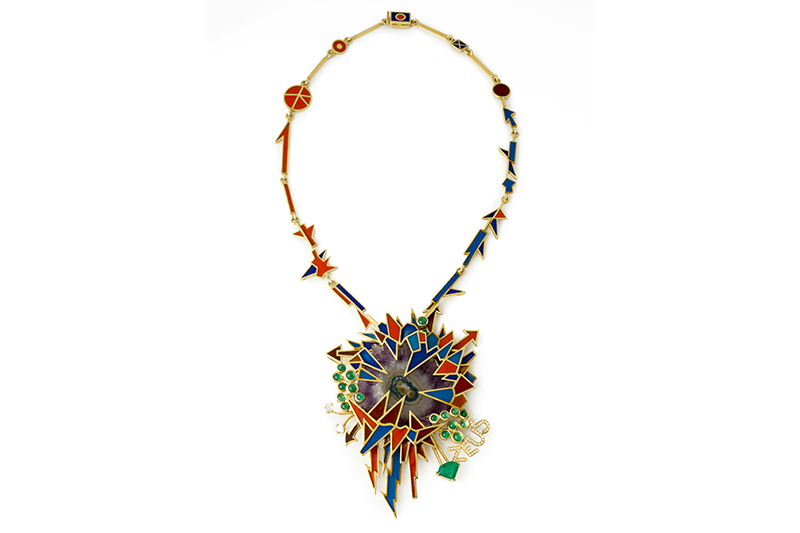 zeus necklace, 1985
yellow gold, amethyst, enamels, diamonds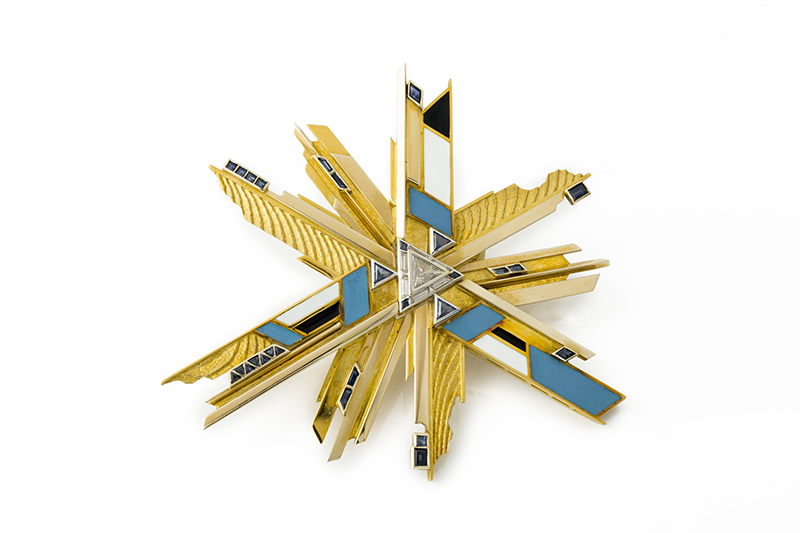 necklace with pendant, 1968
yellow gold, white gold, enamels, sapphires, diamonds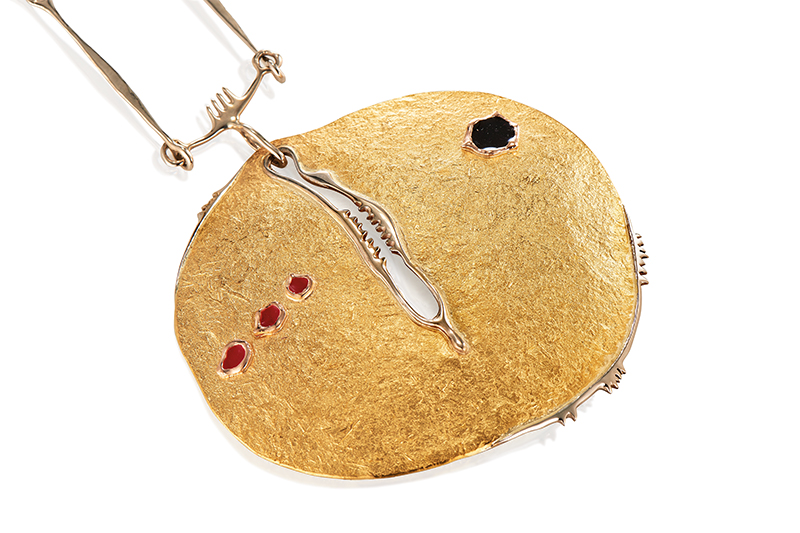 spora necklace, 1995
pure gold, white gold, enamel detail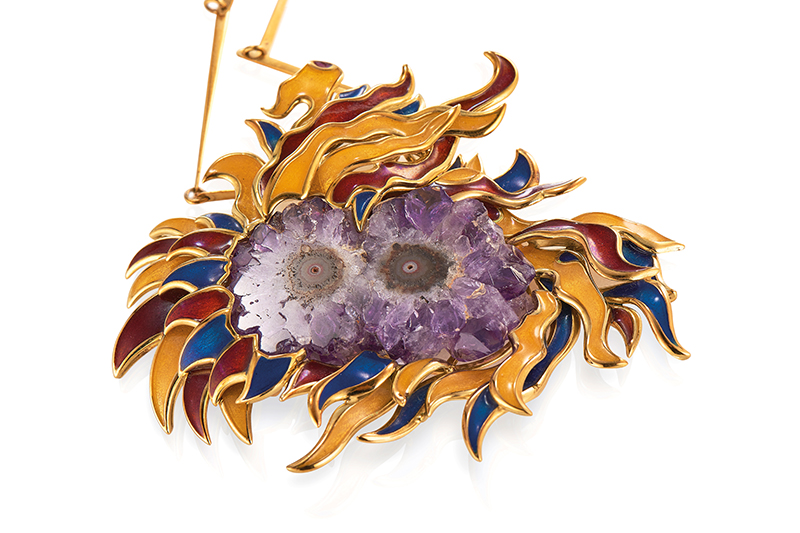 necklace 1995
yellow gold and amethyst, detail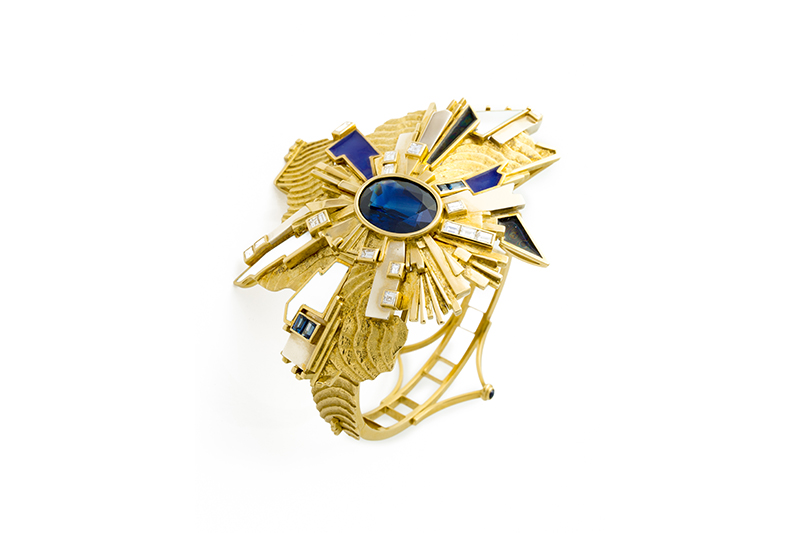 bracelet, 1980
yellow gold, white gold, enamels, sapphires, diamonds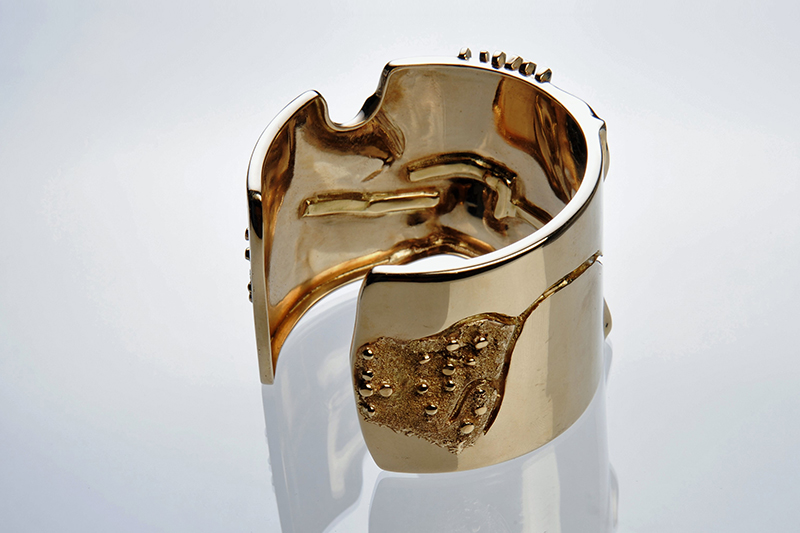 bracelet, 1970
pure gold, yellow gold, white gold
brooch, 1964
yellow gold, white gold pink gold, sapphires, rubies