Wednesday, 02 December 2020
The new edition of the Museum is coming, between beauty and craftsmanship
The preview of the new Permanent Edition will be online on the Museum website on 15th December: wide to excellence and to the Italian territory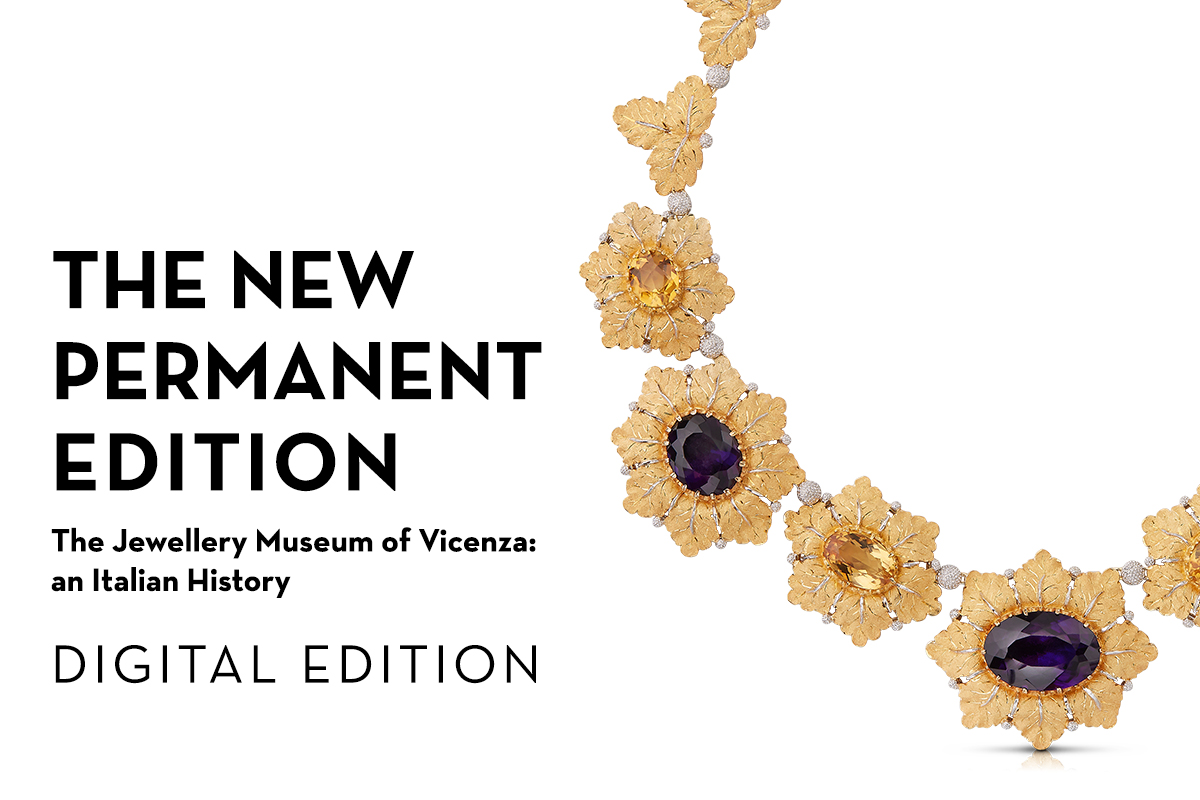 The Jewellery Museum of Vicenza will lauch the digital preview of the new Permanent Edition on December 15, 2020 onl the Museum website www.museodelgioiello.it postponing to 2021 the inauguration in the spaces of the Palladian Basilica.
With the aim of continuing in the intense path of spreading the culture and values of Italian jewelery, enhancing the territories and companies and keeping alive the link with visitors, collaborators and enthusiasts, at the dawn of its fourth edition, the Jewellery Museum of Vicenza officially becomes a permanent museum dedicated to Made in Italy jewellery, thus adding another level of of perception of the jewel.
The protagonist, therefore, is the territory in terms of creativity and manufacturing, manifested through the creative, artistic, productive and technological excellence of Italian jewellery.
As underlined by Marco Carniello - Group Brand Director Jewelery & Fashion of IEG:
"The Jewelery Museum is increasingly becoming a cultural reference for the entire sector and consolidates its role within the rich artistic offer of the City of Vicenza, historically linked to the world of gold".
For the Director, Professor Alba Cappellieri, "The new Edition represents a tribute to Italian beauty, to the excellent craftsmanship of our goldsmith territories, to art, fashion and design that represent Made in Italy worldwide. The jewel creates unusual interconnections that will amaze visitors. The new Italian Edition will allow you to focus your gaze on a fascinating kaleidoscope of jewels, connecting environments that are usually distant and demonstrating the solidity of the national goldsmith system".
The 9 rooms of the Museum (Symbol, Magic, Function, Beauty, Art, Fashion, Design, Icons and the Future) and the Director's Choice, present an entirely Italian selection, dedicated to the production of both large fashion houses and small and medium-sized companies in the goldsmith districts of the territory, to artisanship excellence, to artistic experimentation and to the search for independent designers. No longer a single curator per room, instead, for the first time, a scientific committee constituted by the main goldsmith territories: from Vicenza to Valenza, from Arezzo to Torre del Greco, revealing the best Italian goldsmith stories.
In the Jewellery Museum, therefore, the high craftsmanship of the goldsmiths' maison stand out, the great interpreters of the art of Italian jewellery who understood it as research and expressive experimentation, as well as the protagonists of fashion jewelery who preferred seasonality to preciousness of the collections and the creative ability to interpret the spirit of the time. And again the designers who have given value to the project thanks to formal, functional, technological and performance responses, the excellences from coral to filigree, from micromosaic to lava stone, witnesses of a millenary culture of Italian excellence.
Last but not least, the jewels of the future, those that highlight the potential of innovative materials, technologies and scenarios.