"Dreams and signs of Serenissima in Vicenza: a treasure hunt for curious children"
The Jewellery Museum becomes a partner of the treasure hunt organised along the streets of Vicenza on October 10 for the National Family Day at the Museum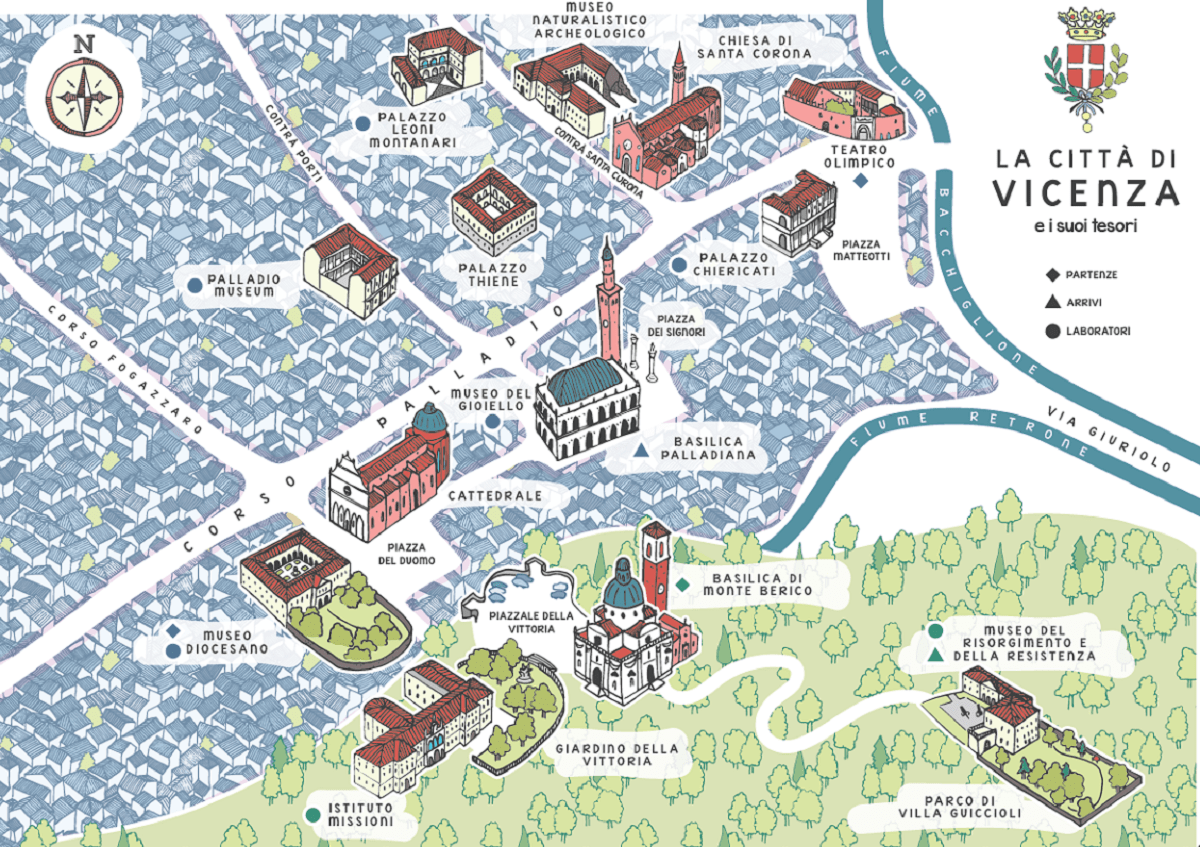 On October 10, in occasion of the seventh edition of the National Day of Families at the Museum, promoted by F@mu, the municipality of Vicenza organised a treasure hunt consisting of educational workshops in the museums along the streets of the city and in Monte Berico.
The event offers initiatives for families with children with the aim of raising awareness of cultural heritage within museums and monuments.
In particular, the Municipality of Vicenza with the patronage of the Ministry of Culture adheres with the initiative "Dreams and signs of the Serenissima in Vicenza - Treasure hunt for curious children" organised together with the partners of the city museum circuit, Intesa Sanpaolo for Gallerie d'Italia - Palazzo Leoni Montanari, Cisa A. Palladio for Palladio Museum, Diocesan Museum of Vicenza, Jewellery Museum, and the new partner Museo del Santuario di Monte Berico, with the collaboration of the box culture association and the operational support of the Vicenza è Consurtium.
Families with children up to 12 years old will be able to participate in the treasure hunt to discover the treasures of the city by choosing between two different itineraries, in the historic city center or in Monte Berico, and they will receive a kit consisting of a shopper with the logo of the initiative, the map with the questions of the treasure hunt, a pencil and a bracelet for each participant, a sign of recognition that will give the right to free access to the museums.
The first itinerary will wind through the monuments and museums of the historic center to end in the Palladian Basilica while the second itinerary will involve the Basilica of Monte Berico, the Missioni Institute (belvedere of the Institute of Religious Sciences) and will end at the Museum of the Risorgimento and of the Resistance. All families who arrive at the end of the treasure hunt with the answers to at least two clues and participation in three educational activities will receive a gift in memory of the day.
"Stimulating children to discover our cultural heritage by playing and having fun - declares the councilor for culture Simona Siotto - will make them respectful adults and proud of the cultural treasures kept by our city, as well as mature and aware cultural users. It is from this profound conviction that "Dreams and signs of the Serenissima in Vicenza" took shape. I thank the entire team of the museum circuit who, together with the new partner Museo del Santuario di Monte Berico, enthusiastically joined this new initiative. In Vicenza, the candidate of the Italian capital of culture 2024, children and their families are the protagonists".
For more information or to book contact or call 0444320854.
We remind you that in accordance with state regulations, from 12 years upwards, he Green Pass is required to participate.