Alessandra Possamai: "Among crowns and tiaras from the past to present day to discover fashions and women"
Interview with the curator of the new "Jewels of power: crowns and tiaras" exhibition on display at the Museo del Gioiello jewellery museum until 31st March 2019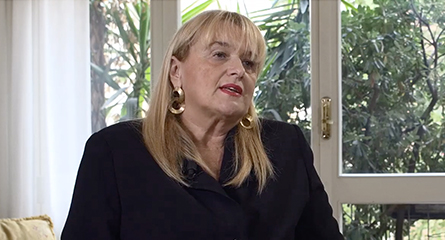 "Jewels of power: crowns and tiaras" opened its doors during VICENZAORO September 2018 at the splendid VIOFF event – the trade show's Fuori Fiera, held on Saturday 22nd September.
The exhibition, which will further enrich the jewellery collections in the prestigious Museo del Gioiello jewellery museum located inside Vicenza's Basilica Palladiano until 31st March 2019, is an excursus among crowns and tiaras of the past and present, focussing on what they are and have been.
A leap into the tastes and styles of different eras and the wonderful creations of great artists amid cinema, design, fashion religion and high jewellery.
As the exhibition curator, Alessandra Possamai says: "This exhibition aims to make the visitor reflect on the role and value of jewellery and of items of great value such as crowns and tiaras, both in the past and present day. It was the jewellery museum's director, Alba Cappellieri, who had the idea, since she strongly wanted to investigate into the role of these items in the modern age. It is therefore not a historical exhibition but more of a journey within various worlds, through a variety of protagonists and artists."
All starting from the concept of crowns and tiaras, similar yet profoundly different objects: "A crown has a circular shape while a tiara is semi-circular and has no sovereign power. Neither is it passed from successor to successor to indicate an undertaken power."
Moreover, these valuable artefacts have held important political and social value in history as "symbols of political, social, economic and emotional power, a sign of the excellence of goldsmith art. They are works that are highly current in jewellery production, authentic icons of past and present styles. The history of crowns and tiaras or diadems has been intertwined from the very beginning."
What items can be admired in the exhibition? "There are 25 creations from different eras, all of great value and charm although not "archaeological". To track them down, I went among trends and sectors collaborating, for example, with the historical Petochi family jewellers in Rome – one of the most famous in the world since 1884 – who are lending 2 ancient and priceless tiaras, one of which comes directly from a collector of theirs, donated to them in turn by their grandmother as a symbol of the tradition of one of the wealthiest and most important Sicilian families of the past, who traditionally gave brides a tiara on their wedding day.
Then there is coral with Platimiro Fiorenza, one of the greatest coral craftsmen in Trapani and the Mediterranean, whose particular work in reverse side mounting on this material was inspired by tiaras worn by the Jews in Maghreb".
And then there is also space for the world of design with the works of several artists such as Cosimo Vinci with "his crown-garland entitled Hera, dedicated to the goddess who, due to constant infidelity, became extremely cruel towards men, yet at the same time, was the protector of women and marriage. The designers' creations prove the desire to downplay the value of "power" in a representation of sacrilegious irony and cult message."
Then there is the world of cinema with several valuable items from Gerardo Sacco's collection: "A meeting with film director Franco Zeffirelli gave him an international dimension, especially with the film "Young Toscanini" for which he made the costume jewellery. He also created Queen Gertrude's crown in "Hamlet", played by Glenn Close, made from a hand-embossed silver sheet set with hard stones, and King Claudius' crown, again in "Hamlet", played by Alan Bates and Ophelia's garland of hard stones and synthetic pearls, worn by Helena Bonham Carter. He also contributed artistically to the musical taken from Alessandro Manzoni's novel "The Betrothed", directed by Michele Guardì, by making the costume jewellery. The groom traditionally gave this type of headdress in 925 silver with pearls, a central cameo and hollow spheres, to his bride as a token of his love, and it became part of traditional female dress in Lecco and the ornament worn by the story's heroine, Lucia Mondella. It was also known as the poor man's tiara."
There is also Sacco's copy of Hera Lacinia's golden diadem found on the headland in Crotone and now safeguarded in the city's National Archaeological Museum. "The crown must have encircled the head of the divinity's statue and the crowned heads of Hera's effigies, found on some coins from ancient Kroton dating back to fourth century BC. The actual origin of the Golden Diadem is not certain. In all the digs conducted in South Italy up to now, votive items of that manufacture have yet to be unearthed."
Cinema, design, history and jewellery as well as fashion, a field in which these objects are as current as ever: "Making a comeback in the collections of some of the world's leading designers, crowns and tiaras are closely connected to the fashion world. As the Sharra Pagano brand, founded in 1969 by Lino Raggio and Gianfranco Signori, has proved by creating memorable tiaras for the world's most famous opera singers. On display are a tiara made for soprano Ghena Dimitrova in "La Gioconda" by Amilcare Ponchielli and a silver-plated brass crown made in rhinestone openwork on a cone-shaped base, demonstrating the versatile creativity of this brand which, together with technique, has forged extraordinary works flaunted on the catwalks and in fashion magazines."
An exhibition that aims to describe the past and present value of these precious artefacts: "Tiaras and crowns were once symbols of power and financial wellbeing. Now, however, it is as if the modern woman, by wearing them for fun or pride, could autonomously crown herself queen, without violating obsolete laws of etiquette and assert her independence with beauty, statement and playfulness."