Cristina Del Mare
Curator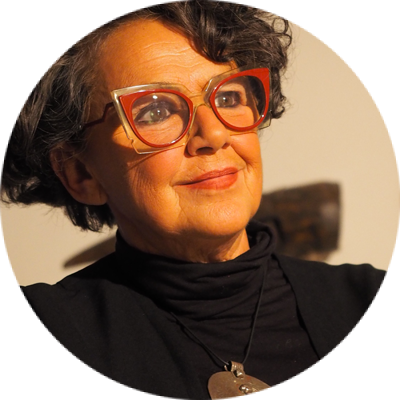 "As an anthropologist, I wanted to choose some specific talismans and amulets, the main priority being to tell a story that goes beyond the boundaries of our western culture, so you will therefore find a series of elements in the Gioielli Magia section that dates back to pre-Roman times, and which also goes beyond the pattern and structure of our organized societies to focus attention on all those elements and beliefs that are typical of societies and which we would define as primitive or, in any case, non-European."
Biography
Cristina Del Mare, ethnologist, applied art scholar and cultural event curator, obtained her degree in Cultural Anthropology at the Cattolica University in Milan.
She has spent the last thirty years doing ethnographic research, writing monographic articles with particular attention to the symbolic meaning of traditional ornaments and the identity aspect of jewellery as a element of cultural belonging.
She has been the author and curator of a many exhibitions on different jewellery themes, including the cycle of eight "le Vie del Corallo" and "Mirabilia Coralii" coral displays, accompanied by as many catalogues, which highlighted the historical, artistic, symbolic and anthropo-poietic aspects linked to this Mediterranean treasure. She was curator for the "Jewels of the sea" exhibition at Vicenza's Museo Del Gioiello (March-July 2015).
She collaborates with Palermo University's Observatory for Decorative Arts and with the Ligabue Study and Research Centre in Venice.