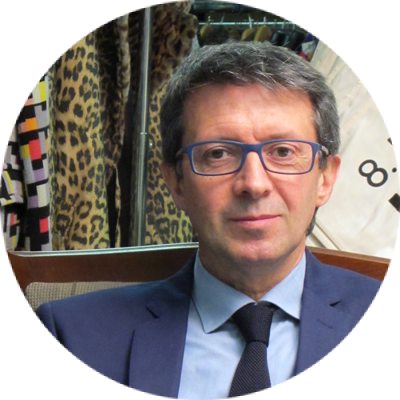 "In order to find a selection of jewellery for the Anna Piaggi collection, I made a study starting from what she had written and so I re-read all the articles she wrote in her long career as a journalist. She actually left a list of jewellery items on which she noted down her favourites. What especially characterized her was her ability to re-use elements that had nothing to do with clothing by re-adapting them to garments and accessories, like costume jewellery."
Biography
- Born in Milan in 1964
- Attended the Scientific High School for 3 years
- 1982, started to work in father Alberto's graphic design studio
- 1985, obtained his Artistic High School Diploma at Milan's top Artistic High School.
- 1995, obtained a degree in Architecture, specializing in Industrial Design and Furnishings at Milan Polytechnic
- From 1983 to 2006, he was partner and art director at Studio Piaggi, creating a large number of graphic communication projects for Italian and multi-national companies in various product sectors: diagnostic-pharmaceutical; consumer electronics; insurance; public authorities; cultural events, publishing, the creation of products for the Mirus2® trademark, distributed in national bookstore chains and aimed at company promotion.