Marie-José Van Den Hout
Curator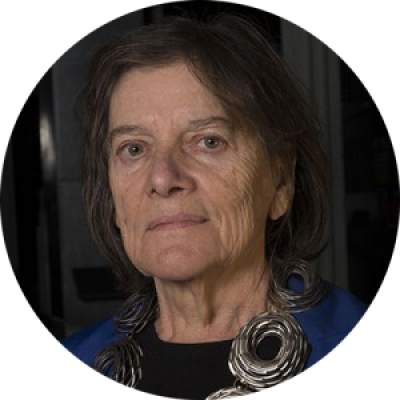 I chose to make a selection of gold contemporary jewelry. I chose gold because of my family tradition working for churches, but also because Vicenza is the center of gold jewelry. Young people tend to make pieces in plastic, in rubber, in found materials, just anything which is available because they can't afford to buy expensive materials, and that makes interesting jewelry, but for my collection, my private collection I decided not to acquire pieces made of plastic anymore, nor rubber, because in time they will be gone. Plastic discolours, rubber disintegrates, wood, gold, silver, steel, all those natural materials, they stay. And, well, for this exhibition, that's what I did, only gold. Gold is like the sun, gold is like life, and I love it.
Biography
Growing up in a family of revered ecclesiastical gold- and silversmiths Marie-José van den Hout, Director of Galerie Marzee, was mesmerised by the baroque craftsmanship of her adored grandfather. Alongside two of her brothers, she worked in her father's workshop before studying gold- and silversmithing and then fine art at the Academy of Fine Arts in Maastricht. She established Galerie Marzee in Nijmegen (NL) in 1979 and today it is the largest independent contemporary jewellery gallery in the world.
Marie-José van den Hout is a prominent advocate for young jewellery artists, bringing their work to an international audience through Marzee, and has curated exhibitions in museums and galleries all over the world.