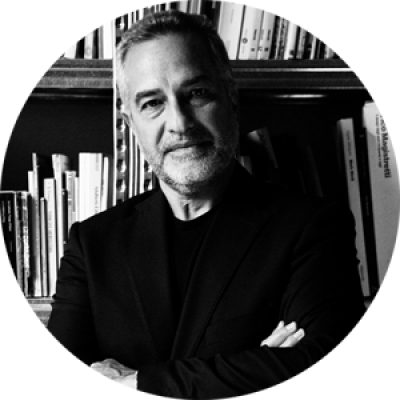 "For this hall of the Museum, we decided to select jewellery designed by architects or planners who would normally work with an all-round perspective, and avoid the specialists, that is, jewellery designers. In other words, people who deal with all levels of design, even the architecture of the smallest object, and in this selection, jewellery is included."
Biography
Designer and critic, he graduated in Architecture in Genoa in 1983. He was the editor of Domus from 1986 to 1994, of Abitare from 1995 to 2007 and is currently a columnist for Inventario.
His experience as a curator include exhibitions such as Aperto Vetro 2000 in Venice; "Gio Ponti: A World" in London, Rotterdam and Milan in 2002-03; "Bruno Munari" in Tokyo in 2007, "Design una storia Italiana" in Rome in 2011 and "Gino Sarfatti" in Milan in 2012. He has designed for Driade, O luce, Fiam, Glas, Azzurra to mention but a few. He took part in the XXI Triennale 2016 with the Stanze exhibition and curated Design behind Design at the Diocesan Museum.