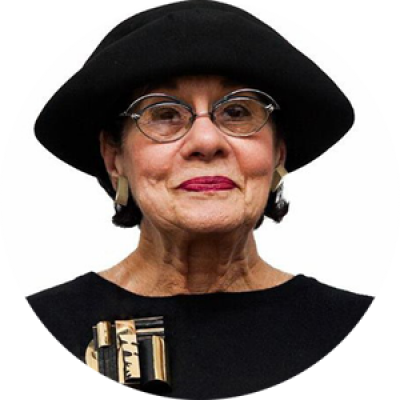 "Jewellery is art, for me, is different because each piece is made by an individual, it is not made by industry, it is made by an artist who has a unique vision and who has the ability to enquire about a range of aesthetic ideas and to incorporate a particular personal concept. 
Since we decided to curate or organize an exhibition of american work, there was a definite obligation on my part to research and to carefully examine the field, and to try to select twentyfive or twentysix works that would illustrate the range of aesthetic, you know, or the range of… the broad range of creative aesthetic work that existed in the United States, from the late twentieth century to the early twentyfirst century."
Biography
Helen W. Drutt English was the Founder/Director of her eponymous gallery (Helen Drutt) in Philadelphia (1973–2002) and developer of the syllabus for the first college-level course in the history of modern craft in 1973; her archives have become over the past thirty-eight years a resource to scholars and institutions throughout the world. The gallery was among the first in the United States to make a commitment to the Modern and Contemporary Craft Movement. In 1979, American Craft Magazine stated that her gallery was to crafts what Alfred Stieglitz's Gallery 291 was to photography earlier in the twentieth century. She acted as a catalyst to introduce American Crafts internationally and brought European, Australian, and Asian works to America.
Initially titled Contemporary Jewellery: 1964–1994, Helen Williams Drutt Collection has been exhibited in eleven museums in America, Europe, and Scandinavia from 1984 to 1995. The support of this exhibition expresses a primary concern and focus on preserving a segment of the history of contemporary jewelry. Jewelry of Our Time, by Peter Dormer and Helen W. Drutt English, was published by Thames & Hudson, London, and Rizzoli USA in November 1995. In 2002, the expanded Helen Williams Drutt Collection entered the permanent collection of the Museum of Fine Arts, Houston. In 2007 Ornament as Art: Avant-Garde Jewelry from the Helen Williams Drutt Collection opened at the Museum of Fine Arts, Houston and traveled to four U.S. museums with an extensive catalog of the complete collection.
She has lectured internationally, has served as a panelist for the National Endowment for the Arts, and contributes numerous essays and organizes major exhibitions in her field. Honors include Fleisher Founder's Award, Philadelphia Museum of Art (1994), Mayor's Arts and Culture Award (1994), Honorary Fellow, American Craft Council (1992), Lifetime Achievement in the Crafts, National Museum of Women, Washington, D.C. 1(993), Tyler Alumni Fellow, Honorary Doctorate of Arts, Moore College of Art and Design, Philadelphia (1990). In May 2001, she was awarded an Honorary Doctorate of Arts, University of the Arts. She was named Visionary! by Museum of Arts and Design, New York in 1999. In 2002, she was the recipient of Award of Merit, the Philadelphia Art Alliance. In October 2002, she was named A Distinguished Daughter of Pennsylvania, Commonwealth of Pennsylvania. In 2004, she was admitted to the Goldsmith's Hall of Fame, and in 2006, she received the Philadelphia Craft Medal, Philadelphia Museum of Art. In 2008, she received the Founders' Circle Award from the Mint Museum of Craft + Design, and in 2014 she received the Hermitage Museum Foundation: USA award, the Visionary Women Award from Moore College of Art in Philadelphia, and the Tyler Tribute from Temple University in Philadelphia.
She is a trustee of the Archives of American Art, Smithsonian Institution; serves on the American Board, National Gallery of Australia, Canberra; Indian Art Committee, Philadelphia Museum of Art; committee, Peter Dormer Lecture, London, England; was a curatorial consultant for The Hermitage Museum Foundation: USA (2013–15); and serves on the American board of Ilias Lalaounis Jewelry Museum in Athens, Greece. Married to H. Peter Stern, co-founder of the Storm King Art Center, New York, USA.